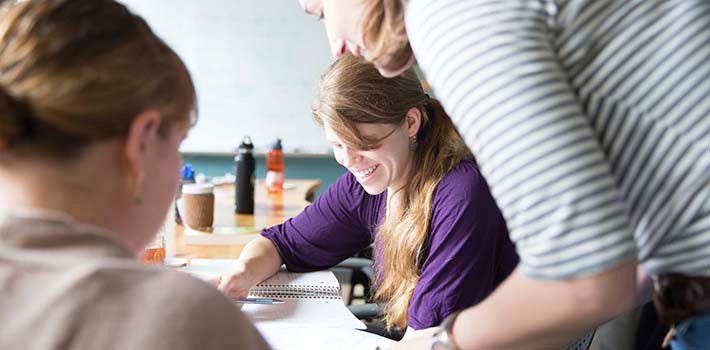 Undergraduate degrees: BA or BS
Learn to Help People with Communication Disorders
Effective communication plays a key role in the achievement of academic, social, and vocational success. If you're interested in working with individuals impacted by disorders of speech, language, cognition, and hearing, the CDS major might be the track for you.
The bachelor's degree in CDS is considered a pre-professional degree and will prepare you to enter a graduate program in either speech-language pathology or audiology.. During your freshman and sophomore years, you'll be encouraged to pursue a strong liberal arts curriculum in departments such as biology, linguistics, English, psychology, and foreign language. After fulfilling your general education prerequisites, you'll take the majority of your CDS courses junior and senior year.
As a CDS student, you'll learn about:
Anatomic-physiological bases of speech, language, and hearing
The physical properties of speech (acoustics and phonetics)
Language acquisition and the role of biology, cognition, environment, and culture
Speech, language, and hearing disorders across the life span as well as assessment and treatment procedures for individuals with these disorders
Sample Courses
American Sign Language for Educators is an introduction to receptive and expressive communication in American Sign Language and working with students and clients with some degree of hearing loss in professional settings.
Developmental Disorders in Communication explores growth and developmental disorders that cause or contribute to child and adult speech, language, fluency, and auditory impairments.
See more courses in communication disorders and sciences.
Selected Faculty Work
Assistant Professor Karen McLaughlin teaches in the areas of anatomy and physiology of speech and language, and acquired neurological disorders of speech, language, and cognition. Her area of specialty is acquired brain injury. McLaughlin's research has focused on creating and evaluating interventions for individuals and families affected by brain injury, and injury prevention.
Communication Disorders and Sciences Program
College of Education
Contact Information
(541) 346-2480