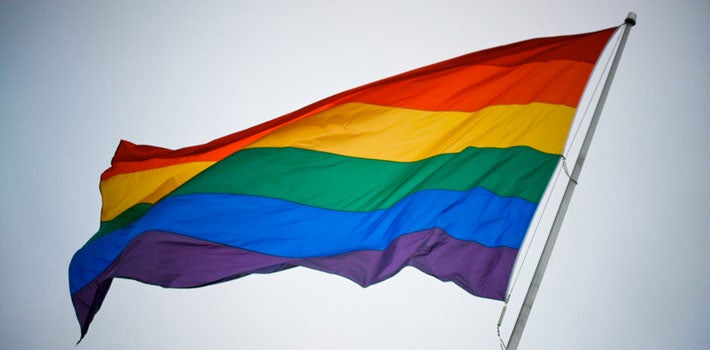 Queer studies is a minor within the Department of Women's and Gender Studies.
Undergraduate minor
Queer Is Here
Where do our concepts of gender come from? Who is directing the struggle for rights for queer Americans? How has traditional history overlooked gay, lesbian, bisexual, transgender, and queer (LGBTQ) citizens? As a student in queer studies, you'll examine a host of issues that contribute to our ideas about gender, identity, and character. Explore how sexuality, race, class, disability, and the legacies of colonialism collide to define people and how they live. Travel beyond Boy George and lavender linguistics to pioneer studies in this relatively new area of scholarship.
The minor in queer studies was a response to student demand for courses on topics connected to this field, such as transgender history, sexualities, and gay legal issues. Elizabeth Reis, who oversees the minor as head of the Department of Women's and Gender Studies says, "For the last several years students have expressed the desire for such a program. They've clearly demonstrated their enthusiasm."
While working toward your minor degree, you'll complete 24 credit hours of classes that cover everything from sex and medical ethics to theories of marriage. Internship credits and study abroad opportunities also can be used to satisfy some of the credit requirements.
We want to encourage students to think critically about the political and social questions that surround sexuality," says Reis. "These questions are at the forefront now."
Queer studies courses will help you explore the diversity of the LGBTQ communities, the history and present conditions of sexual identity formation, and the function of ideologies of sexuality. Help change the world and promote respect in the workplace with your newfound critical thinking skills. Aid a city as it institutes its new gay marriage law. Promote diversity in adoption rights. You'll be able to create and foster a culturally responsive community wherever you go.
Points of Interest
The University of Oregon is the only institution in the state to offer an academic minor in queer studies.
UO offers several awards and scholarships related to the LGBTQ community, including the Bruce M. Abrams Essay Award and the Moore Scholarship.
The Linda Long Library Collection supports LGBTQ academic areas of study.
Build community through free resources such as Queer Eugene, which offers LGBTQ movie nights, poker nights, and resources for political activism.
Sample Courses
Introduction to Queer Studies approaches sexuality as a complex social construction. The class looks at some of the historical and political contexts for understanding the field.
Queer Ethnic Literature explores major writers and topics in the queer African-American and queer U.S. Latina and Latino literary tradition. Writers include John Rechy and James Baldwin.
Queer Migrations concerns itself with the mobility and scale of queer social life. It takes a look at a variety of topics such as the study of queer tourism, queer immigration, and queer globalization
Sex and Medical Ethics addresses contemporary issues, including queer theory, sexualities and genders, feminism and race, and global feminist theory.
Transgender Issues uses history, politics, and identity as a lens through which to explore how sexuality and gender have been configured throughout U.S. history.
See more courses offered by the Department of Women's and Gender Studies.
Practical Learning
For-profit and nonprofit agencies welcome interns and volunteers with an interest in queer studies. Work for COLAGE (Children of Lesbians and Gays Everywhere), GLSEN (Gay, Lesbian, and Straight Education Network), BRO (Basic Rights Oregon), and other organizations. In addition, the HIV Alliance and local queer-straight alliance youth groups can often use regular student interns.
Meanwhile, study abroad opportunities include a program in the Netherlands that allows students with an interest in gender, sexuality, and LGBTQ issues to gain a cross-cultural perspective. Portions of the program are taught in Amsterdam, London, and Berlin.
Interdisciplinary Opportunities
The 24-plus faculty members affiliated with the program come from a wide range of disciplinary perspectives that include history, ethnic studies, English, classics, philosophy, Spanish, women's and gender studies, religious studies, anthropology, and more.
As a student, you'll be encouraged to range across disciplines in the pursuit of scholarship. Take classes in postcolonial literature, female same-sex desire in modern China, or gender in medieval literature. Explore the folklore of sexuality and gender, or gender and the African Diaspora. No matter where you plan to create change and progress, queer studies will serve as a valuable and versatile addition to your major.
The Student Experience
Eugene native Adrienne Bovee is a geography and ethnic studies double major and a queer studies minor. She says her classes challenge her to think in new ways and discussions, films, and readings keep her thinking long after she walks out of the classroom. In her queer studies, she's found small communities of people who are passionate about the things she is. Her advice to incoming students? "The UO is what you make of it. There are incredible people and opportunities everywhere."
Featured Faculty
Associate Professor Lynn Fujiwara's interests involve feminist theory with emphasis in Third World and critical race feminisms. She is particularly interested in issues pertaining to women of color, including immigration, citizenship, welfare, labor, and family. Her book, Mothers Without Citizenship: Asian Immigrant Families and the Consequences of Welfare Reform, was published by the University of Minnesota Press in 2008.
Professor Elizabeth Reis focuses on U.S. women's history with an emphasis on early America, as well as the history of sexuality, religion, and medical ethics. She teaches courses on feminist theory, sex and medical ethics, and transgender issues, as well as Introduction to Women's and Gender Studies and U.S. Women's History. Reis is the author of Bodies in Doubt: An American History of Intersex, published by Johns Hopkins University Press, and Damned Women: Sinners and Witches in Puritan New England, published by Cornell University Press.
Associate Professor Ernesto J. Martinez teaches and conducts research in the fields of American multi-ethnic literature; lesbian, gay, transgender, bisexual, and queer studies; U.S. Latino and Latina literature; and literary theory. He is the author of On Making Sense: Queer Race Narratives of Intelligibility and has co-edited, with Michael Hames-Garcia, the first scholarly collection of essays to examine the intellectual and cultural contributions of gay Latino men in the United States and to analyze the political and theoretical value of gay Latino studies (Gay Latino Studies: A Critical Reader).
Associate Professor Judith Raiskin teaches classes on lesbian literature and cultures. She is currently working on a book with co-author Alison Gash (Political Science) exploring how LGBT parents make use of legal and extra-legal resources to secure their family relationships and to understand how reliance on these tools has shaped their roles as parents. They have written "Parenting Without Protection: The Influence of Legal Instability on Same-Sex Headed Households."
Career Opportunities
Education, journalism, law, human resources, public policy, social services, and all the health professions require workers who have cutting-edge knowledge of diversity issues. Students who complete this minor can apply their knowledge to positions in government, industry, for-profit companies, and nonprofit organizations. Large companies and municipalities are hiring staff to work expressly with LGBT populations. In fact, a growing number of municipalities and cities in Oregon (Portland, Multnomah County, Eugene, and Ashland, for example) have enacted domestic partnership legal status for same-sex couples and families, leading to a need for individuals with expertise in the fields of human resources, legal counseling, and political activism. Help expand opportunities in this important area.
Department of Women's and Gender Studies
Contact Information
(541) 346-5529
(541) 346-0652 fax