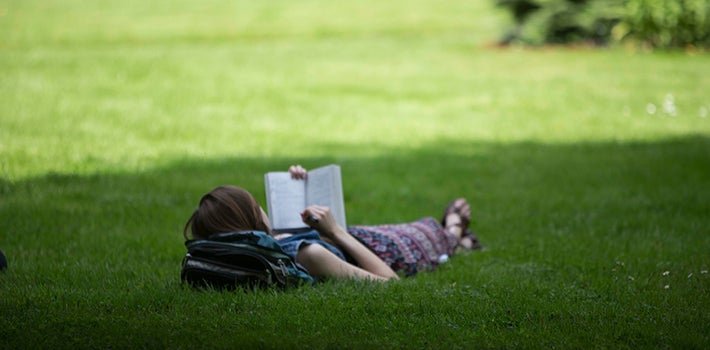 Undergraduate degrees: BA in French, Spanish, Italian, and Romance languages
Undergraduate minors: French, Spanish, Italian
Language, Culture, and Travel  
There's something wonderful about studying another language—you can think and express yourself in a new way. Using that skill to communicate with people whose culture and life experiences are very different from your own is exciting and brings an amazing sense of accomplishment.
You might study Italian, French, Portuguese, or Spanish language and culture to get in touch with your family's history. Or maybe you plan to work in or travel to a foreign country or work with multicultural and multilingual populations in the United States for which you'll need linguistic and cultural skills and knowledge. Perhaps you're interested in a global business career that involves multinational companies, or in medicine, law, social services, or education. Whatever the basis of your interest, the University of Oregon's Department of Romance Languages will help you to expand your knowledge and horizons.
The Department of Romance Languages is a diverse, multicultural and multilingual unit with a first-rate faculty of various national origins. As a major, you will gain an extensive knowledge of languages and cultures and will have invaluable opportunities for intellectual growth. You'll also be able to engage in a wide variety of extracurricular activities, including lectures and film festivals, language conversation groups, study abroad programs, and internships.
Points of Interest
If you choose a Romance Languages major, you will develop advanced proficiency in two of the four languages we offer.
Immerse yourself in culture—experience the magic of a study abroad program in Europe, Africa, Latin America, or North America.
Earn UO credit for a Participatory Learning Experience, a bilingual internship program that allows students to use French or Spanish language skills as volunteers in Lane County.
Practice your new language skills during casual weekly gatherings of speakers with varying experiences and abilities.
Apply for an internship in a foreign country. In past years, Romance languages majors have found great internships, including with a ski manufacturer in France, an emerging tour company in Brazil, a bike touring company, local clinics and hospitals in Ecuador, and a microfinance program for indigenous entrepreneurs in Peru.
Participate in the French or Spanish immersion program in the Global Scholars Hall.
Sample Courses
Culture et Langage: La France Contemporaine includes training in the language and culture of modern France using newspapers, short stories, poetry, and film. The course includes vocabulary enrichment activities and is conducted in French.
Portuguese Language and Culture provides an interdisciplinary and critical examination of Brazilian culture. This course will discuss articles, movies, songs, poems, and short stories that revisit moments of oppression in Brazilian national history, more specifically the military dictatorship (1964-1985). This class offers students the opportunity to enhance their knowledge of the structure of the Portuguese language while presenting them with literary texts and songs by major Brazilian authors who reacted to the despotism, repression, and censorship of those times. This course is conducted in Portuguese.
Lengua y cultura: Comunidades bilingües helps students develop advanced language skills in Spanish through the analysis of social and linguistic dynamics of communities in Spain, Latin America, and the United States, where Spanish encounters other languages.
See more courses offered by the Deparment of Romance Languages.
Interdisciplinary Opportunities
While studying other cultures, you will learn from experts across the disciplines. A major in Romance languages works well with a double major, minor, or elective courses in Latin American studies, European studies, international studies, comparative literature, women's and gender studies, business administration, journalism, ethnic studies, or African studies. You might also consider adding courses in history, art history, music, political science, or linguistics to your academic plan.
Hands-on Learning
You already know the clear benefits of gaining intercultural experience and language skills. Taking advantage of a study abroad program is one of the best ways to expand your language abilities and might be exactly what you're seeking to add an extra dimension to your undergraduate career. The University of Oregon sponsors study abroad programs in more than 87 countries around the globe. You may be able to study abroad by the end of your first year at the university, so talk with your adviser as soon as you choose a focus. Coursework and length of stay vary according to your interests. The following study abroad programs are of special interest to Romance Languages majors:
Italian: You may choose from programs in Lecce, Ferrara, Pavia, and Siena, Italy. You may choose courses on Italian art history, culture, literature, politics, history, and other subjects.
French: The university has programs in Angers, Poitiers, and Lyon, France, as well as opportunities in other parts of the French-speaking world, including programs in Quebec, Morocco, Cameroon, Senegal, and Tunisia. Your studies may include humanities, social science, business, medieval studies, and more.
Spanish: UO has an impressive number of study abroad offerings in the Spanish-speaking world. You could study in Argentina, Ecuador, Mexico, Spain, or another country. Course options vary according to the program. You may wish to study history, anthropology, Arabic, business, economics, or journalism to name a few.
Portuguese: You will find multiple programs focused on language and culture in Brazil and Portugal.
The Student Experience
Trevor Whitbread, a double major in Spanish and Humanities with a Latin American Studies minor, studied in Oviedo, Spain, for five months. He lived with a host family in an apartment near the downtown area of the medieval district of the city, so he spent part of each day exploring and visiting the outdoor markets. Whitbread says his host family helped him experience local culture and improve his language skills. "We talked about everything from politics and life in the United States to culture in Spain and Asturias," he says. "I learned a lot about Spanish history, what life was like during the dictatorship, and why the royal family is still important today."
Sharryl Sosa, a double major in Spanish and International Studies with a Latin American Studies minor and a Second Language Acquisition and Teaching certificate, chose the Romance languages major for the many different opportunities it offered. She especially enjoyed upper division classes that allowed her to engage in research, explore her own ideas relating to literature, and participate in classroom discussions. "I learned from both the professor and from other students about different ways of reading a text," she explains.
Rachel Jensen chose to double-major in business and French. Her love for the language made a study abroad program a top priority, so she recently spent four months in Lyon, France. While studying business at the Catholic University of Lyon, she lived with a host family who spoke only basic English. Jensen worked continuously on improving her language skills. "Overall, the experience was amazing! I learned so much about myself and how I can adapt," she says. "Having lived there and made such a connection with my host family has given me the confidence to go out in the world and make something of myself."
Featured Faculty
Nathalie Hester, associate professor of French and Italian, focuses on Renaissance and Baroque literature, travel literature, early modern French and Italian historiography, early modern Italian convent culture, feminist theory, and 17th-century women's writing.
Lanie Millar, assistant professor of Spanish and Portuguese, focuses her teaching and research on 20th- and 21st-century Caribbean and Latin American literature, Cuban literature and culture, Luso-Brazilian literatures with a focus on Lusophone Africa, race and ethnicity in literature and culture, postcolonial approaches to literature and culture, and politics and culture.
Sergio Rigoletto, assistant professor of Italian and Cinema Studies, focuses on European cinema (especially Italian), gender and sexuality, comedy film, popular culture, and queer theory.
Career Opportunities
A bachelor's degree in any of the Romance language majors is important as you pursue a career in college or secondary teaching, or in any field that requires advanced proficiency in the target language along with multicultural skills and knowledge. You might go into international business, the social or medical sciences, diplomacy, government, or the foreign service. Translation and editorial work are also options. You may decide to go on to graduate school in Romance Languages or in another discipline such as international law. Whatever career you choose, the critical thinking and analysis skills you gain from your coursework, the confidence you develop in writing and speaking, and the connection with other cultures you make will enable you to be a competent, confident, and articulate professional. It's never too early to start working with the UO Career Center.

Department of Romance Languages
Contact Information
541-346-4021
541-346-4030 fax