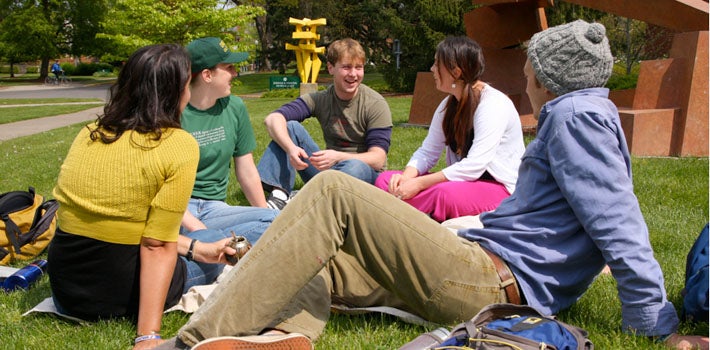 Undergraduate degrees: BA or BS
Undergraduate minor in ethics
Undergraduate minor in philosophy
The Life of the Mind
What is the meaning of life? What obligations do human beings have to their environment and society? What is the nature of knowledge and justice? As a philosophy student at the University of Oregon, you will be exposed to profound questions and insights and be required to think and write thoughtfully and critically about issues arising from the heart of the human condition, such as the role of race and gender in the formation of human identity, the meaning of art, and other substantive topics. Choose from a wide array of concentrations, such as critical theory, aesthetics, Latin American philosophy, pragmatism, feminism, embodiment, and environmental philosophy. Study under faculty mentors with national and international reputations in their fields of interest.
You'll join an active and interactive community of varied philosophical perspectives where close reading, open and rigorous inquiry, and sustained reflection are prized. While analyzing works from a range of philosophical traditions—including American, analytic, continental, and feminist—you'll contemplate the words of influential thinkers such as Plato, Augustine, Confucius, Descartes, Kant, John Dewey, Jane Adams, Theodor Adorno, Martin Buber, John Rawls, Martin Luther King Jr., Monique Wittig, and many more.
Philosophy opens your eyes to the bigger picture. At the UO you'll have the opportunity to think about relevant topics and to interpret and analyze concepts that are new to you. You will gain the skills to help you think clearly about abstract ideas, communicate your ideas well, and offer both thoughtful and thought-provoking solutions to problems.
Points of Interest
The department is home to Environmental Philosophy, the official journal of the International Association for Environmental Philosophy, and the Transactions of the Charles S. Peirce Society, the premier journal of the history of American philosophy.
The philosophy department hosts several national and international conferences on campus every year. Recent topics have included climate change, ethics in the Americas, feminism, Native American philosophy, phenomenology, and the nature of friendship.
The department collaborates with a range of interdisciplinary programs and research centers across the university, including the Center for the Study of Women in Society, Comparative Literature, Environmental Studies, Ethnic Studies, the Institute of Cognitive and Decision Sciences, Latin American Studies, Religious Studies, and Women's and Gender Studies.
Sample Courses
Philosophy and Popular Culture engages students in critical philosophical reflection about and through popular culture, including movies, music, graphic novels, and sports.
Internet, Society, and Philosophy is an introduction to philosophical problems of the Internet. Students will primarily focus on social, political, and ethical issues with discussions on epistemological and metaphysical topics.
Love and Sex is an investigation into love, relationships, marriage, sex, sexuality, sexual identity, and sexual representation.
Environmental Philosophy considers the nature and morality of human relationships with the environment, including, for example, the nature of value and the moral standing of nonhuman life.
Human Nature considers the various physiological, cultural, psychological, and personal forces that characterize human beings, taking into account issues of class, gender, race, and sexual orientation.
See more courses offered by the Department of Philosophy.
Making Connections
Philosophy courses are often interdisciplinary and draw on concrete real-life events and situations. Courses and topics such as Human Nature, Philosophy and Cultural Diversity, and Philosophy of Literature will challenge and reinforce all that you have learned or will learn in your academic career. Associate Professor Bonnie Mann says, "I think when folks first come into college it's the perfect time to take a philosophy class. You're remaking your life as an adult. Philosophy provides a place to engage that process thoughtfully."
IIn addition, the study of philosophy will build your critical intelligence and communication skills, making it valuable preparation for many other disciplines and career paths. You'll learn to view and understand the world around you, and as a student of philosophy you will be able to apply your understanding of broad topics and ideas toward any subject you pursue. Philosophy degrees are often combined with other fields, and at the UO, the opportunities are limited only by your own creativity.
The Student Experience
Travis Dandy has always been a Duck at heart. After living in a number of different states, he decided to transfer back home to the University of Oregon. Unlike philosophy departments at other schools, which sometimes focus on the analytic aspects of philosophy, Dandy found that the philosophy department at the UO, "Was willing to engage the social, political, and economic aspects of philosophy head on." While a student at the UO, Dandy has given presentations at undergraduate philosophy conferences at Pacific University, DePauw University, and at the UO. He is the undergraduate liaison for an upcoming conference on homelessness being organized by the philosophy department.
Benjamin Ogawa was drawn to the activism that he saw on the UO campus. Once here, the philosophy department seemed like the perfect place to engage that passion. "The UO that I love is very active academically, politically, and socially," he says. "Philosophy is not just about abstract thoughts that function on their own in a historical or social vacuum. We need and are open to the development and exploration of philosophies that are embodied, political, and seek to change with the world." Ogawa participates in Students for Choice, League of Educators and Students Slashing Tuition and the Japanese Student Organization. He is the co-president of the Undergraduate Philosophy Club (Untergang). Just for fun, he's a director and performer in the UO's Live Rocky Horror Picture Show shadow cast, Forbidden Fruit, where he has played Rocky, Brad, and Frank N. Furter.
Featured Faculty
Professor Mark Johnson specializes in a broad canvas of interests from the philosophy of language to cognitive science to philosophy of the mind. Since 1994, Johnson has worked passionately to help sculpt the philosophy program into the diverse, engaging, and pluralistic program it is today. He teaches moral philosophy, philosophy of art, embodiment theory, philosophy of language, and more. Johnson's most recent book is The Meaning of the Body: Aesthetics of Human Understanding.
Political philosophy and social philosophy are assistant professor Colin Koopman's primary areas of focus. He is the author of two books, Pragmatism as Transition: Historicity and Hope in James, Dewey, and Rorty and Genealogy as Critique: Foucault and the Problems of Modernity. He teaches undergraduate courses on the social, ethical, and political consequences of the Internet as well as courses in political theory. Read Koopman's opinion piece, The Age of 'Infopolitics,' for the New York Times about how the Internet is transforming society's perceptions of personhood and privacy.
Associate professor Bonnie Mann is dedicated to feminist philosophy and gender equity. She teaches an array of courses, but her most popular one is the Philosophy of Love and Sex, in which students think about their own values in relation to romance, intimacy, commitment, and erotic dimensions of culture. Mann, who recently won an award from the Williams Council for Undergraduate Education, says, "Philosophy was a discipline that allowed me to ask the questions that kept me up at night. Kept me engaged in my life in general." She has published multiple books and articles, including "Vampire Love: The Second Sex Negotiates the 21st Century," "Creepers, Flirts, Heroes, and Allies: Four Theses on Men and Sexual Harassment," and Sovereign Masculinity: Gender Lessons from the War on Terror.
Professor Naomi Zack specializes in multiple interests including the philosophy of race, disaster ethics, feminism, and 17th-century philosophy. When Zack is teaching a variety of classes, she enjoys the challenge of inspiring students to participate in discussions and share ideas. She created Philosophical Installations, an online database of videos designed to analyze philosophical ideas. In 2011, she was invited to speak on disaster ethics at the UNESCO conference in Paris, France, and the United Nations University in Tokyo, Japan. Zack's books include Race and Ethnicity (2012), The Handy Philosophy Answer Book (2010) and Ethics for Disaster (2009). Currently, she is writing a book on justice.
Career Opportunities
A degree in philosophy shows employers that you are both disciplined and imaginative, and that you think clearly, communicate well, and will offer thoughtful solutions to questions that range from daily practicalities to the abstract. Employers welcome the finely tuned analytical skills of a student of philosophy. With a degree in philosophy, you will find that jobs in business, law, journalism, health care, education, and public relations are open to you.
Many students decide to continue their education and pursue a graduate degree. The master's and doctoral degrees in philosophy at the UO offer a wide range of topics and philosophical methods to study and develop an even deeper understanding of world problems. Philosophy Department Director of Undergraduate Studies Beata Stawarska says, "Philosophy is not a vocational degree, but it prepares one for following any kind of field that relies on strong critical thinking skills." From government internships to business careers or from publishing to organic farming, there is a wide array of careers available to philosophy majors.
Contact Information
(541) 346-5547
(541) 346-5544 fax