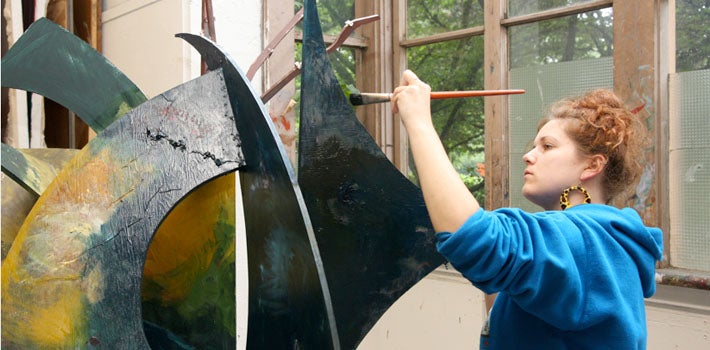 Undergraduate degrees: BA, BS, or BFA
Undergraduate minor
Explore Your Creativity, Prepare for Your Future
The UO's Department of Art will prepare you for a career in the fields of the visual arts, digital arts, and design. You'll choose from courses in ceramics, digital arts, drawing, fibers, metalsmithing and jewelry, multi disciplinary arts, painting, photography, printmaking, and sculpture.
You'll start your art studies with courses in basic design and drawing as part of the foundations program. You'll work with a wide range of media and processes as you explore the grammar and vocabulary of visual language in two-dimensional, three-dimensional, and time-based projects.
The department values the contribution of both art majors and students choosing art course work as part of their broad liberal arts education. If you choose a major other than art, you're still encouraged to explore the studio experience as part of your liberal arts education. Through the making of art, the department will help you to think critically, communicate clearly, and work creatively. As actively practicing artists, the faculty members offer you an introduction to the challenges, questions, and rewards of artistic practice.
You can choose to major in art or digital arts and must apply to the specific program for admission. The major in digital arts encompasses the development of graphics, sounds, interactivities, and applications such as web art, games, animation, video, performance, and installations.
To be admitted as an art or digital arts major, you must complete a university application and then apply to the department. For digital arts, the department deadline is February 1. For art majors, the department deadlines are February 1 for fall term, October 1 for winter term, and January 2 for spring term.
Points of Interest 
Through the Visiting Artist Program, you'll gain insight into contemporary art and professional practice from guest artists who lecture and visit classes each term.
Immerse yourself in the art department's study abroad opportunities. Through the Art in China program, you can travel to Shanghai, Jinan, and Beijing. Through the Art in the City experience, you might also explore Siena, Italy, or New York.
Explore the intangible culture and folk art of Shandong Province, China, through a new interactive website, ChinaVine, coauthored by arts and administration students and faculty member Doug Blandy.
In art history, you'll have hands-on opportunities to work with art and cultural objects at the two campus museums, the Jordan Schnitzer Museum of Art and the Museum of Natural and Cultural History.
Art Galleries and Exhibit Opportunities
Metalsmithing and jewelry is a major within the Department of Art
College of Design
Search Keywords:
art, arts, design, fine art, bfa, visual art, visual arts, welding, adornment, sculpture, metal