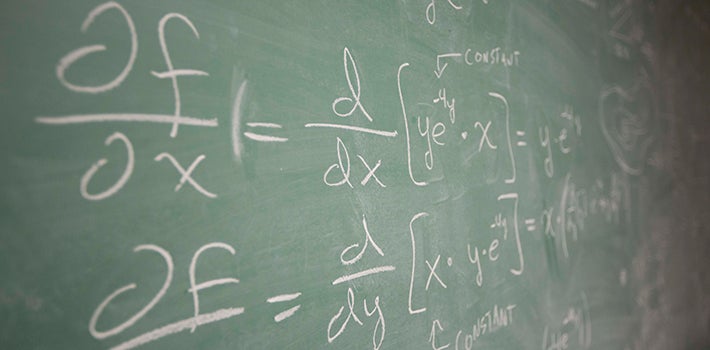 Undergraduate degrees: BA or BS
Undergraduate minor
About the major
The field of mathematics sits midway between the sciences and the humanities. Like the sciences, mathematical thought is very analytical, precise, and rigorous. But like the arts and humanities, mathematics is about exploring places of incredible grace and beauty, some of which can only be accessed through the power of imagination. You can explore geometry in ten-dimensional space, learn about advanced and exotic number systems, and study statistical techniques for finding patterns in data sets, all in a supportive and collaborative environment.
Students majoring in mathematics can choose a track from three areas: applied mathematics, pure mathematics, and secondary teaching. Applied mathematics studies physical, biological, and sociological aspects; pure mathematics focuses on the development of mathematical principles for their own sake; and secondary teaching prepares students to teach math. Regardless of your focus, the mathematics major will teach you the art of disciplined and logical thought, skills that are very valuable to future employers. A mathematics degree prepares you for work in fields like engineering, computer programming, information technology, financial planning, data management, business, and education.
A little more info
The mathematics department offers opportunities for students to gain hands-on experience in teaching and tutoring mathematics.
The pure mathematics track will prepare you for the advanced study of mathematics at the graduate level. There are many opportunities for students to interact with researchers one-on-one, write honors theses, and participate in summer research projects.
For students interested in the applied side of mathematics, we offer courses on advanced differential equations, mathematical cryptography, networks and combinatorics, and probability and statistics.
We host several talks each year aimed specifically at undergraduates and given by distinguished visiting mathematicians.  
Career Opportunities
Mathematics has applications in almost every professional field, especially accounting, computer software, business, and finance. Math skills are exercised in architecture and other fields of design. You might become a much-needed mathematics teacher, passing on valuable knowledge to young students, or decide to explore theoretical and abstract concepts through a master's or doctoral program.