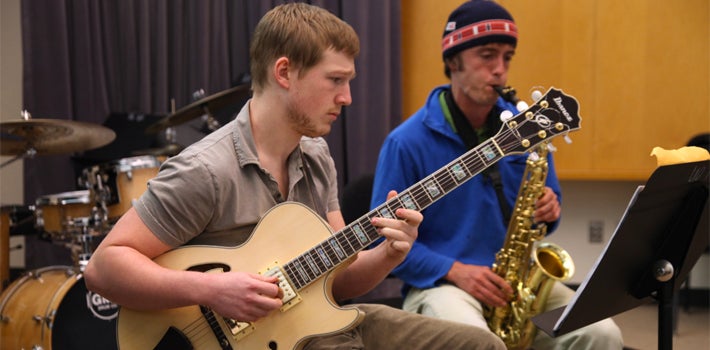 Undergraduate degrees:
BA in general music, music history and literature, music theory
BS in general music, music technology
BMus in performance, music education, composition, jazz studies
Undergraduate minor in music
Jazz It Up at the UO
The UO's renowned program in jazz studies is one of the most exciting jazz programs in the country, boasting outstanding performing ensembles including three big bands, a jazz guitar ensemble, a Latin jazz ensemble, and multiple combos. The comprehensive curriculum includes courses in theory, performance practice, improvisation, piano, repertoire study, arranging and composition, history, pedagogy, program planning and development, and studio instruction.
In addition to dedicated practice space for jazz drummers and small groups, the 2008 upgrade to the UO's music facilities included the creation of a state-of-the-art studio for jazz instruction, rehearsal, and student recording projects.
Recent guest performers include Seamus Blake, John Hollenbeck, Theo Bleckman, Gary Versace, Danilo Perez, Vijay Iyer, Donny McCaslin, Dan Tepfer, Paul McKee, Steve Wilson, Maria Schneider, Jorge Roeder, Ron Miles, Don Braden, Ted Poor, Thomas Marriott, Luis Bonilla, and Rich Perry.
Performance Opportunities
The UO's jazz studies program offers you both large and small ensemble experiences.
Oregon Jazz Ensemble
Jazz Lab Bands II and III
Jazz combos I through X
Jazz and Studio Guitar Ensemble
Latin Jazz Ensemble
Representing in Reno
Since 2000, the Oregon Jazz Ensemble has been named "Outstanding College Big Band" for eight of the ten years the ensemble has attended the prestigious Reno Jazz Festival—more than any other college ensemble.
Admissions
Read the latest admissions information on the School of Music and Dance admissions website.
An audition is required for all music undergraduate (freshman and transfer student) applicants, which also serves as a scholarship audition.
Mid-November—Early notification applicant auditions (undergraduates only)
January and February—Three Saturdays dedicated to all music undergraduate applicants and music graduate performance applicants.
Recorded auditions are also possible in most music areas. Learn more.
Visit Us!
Tour our facilities, meet our talented faculty and staff members, and ask your admission-related questions in person. With advance notice, we can help design a visit to fit your needs. Drop-in visits are not recommended. Schedule a campus visit online or e-mail us at SOMDAdmit@uoregon.edu.
Contact Information
541-346-5268
SOMDAdmit@uoregon.edu