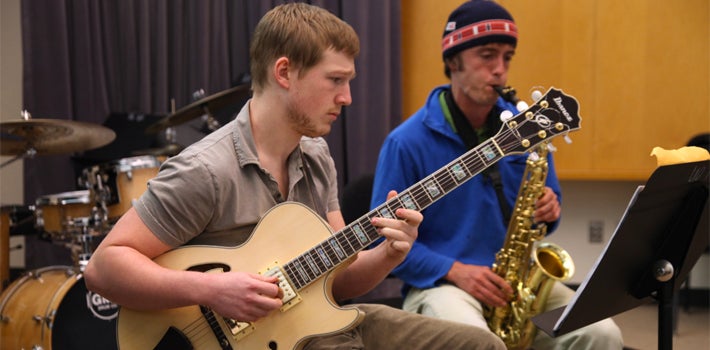 Undergraduate degrees:
BA in general music, music history and literature, music theory
BS in general music, music technology
BMus in performance, music education, composition, jazz studies
Undergraduate minor in music
About the Major
The University of Oregon is home to a renowned program in jazz studies, known for an innovative and rigorous curriculum that prepares students adapt to the ever-evolving musical world in which we live. We believe that an in-depth study of improvisation, composition, and arranging facilitates the development of a versatile skill set that allows our graduates to embrace opportunities in a professional landscape that is always changing.
The jazz studies program is home to three big bands, a Jazz Guitar Ensemble, a Latin Jazz Ensemble, and ten small jazz ensembles, including the Herbert J. Merker JazzArts Oregon Combo. In addition to dedicated practice space for jazz drummers and small groups, the 2008 upgrade to the UO's music facilities included the creation of a studio for jazz instruction, rehearsal, and student recording projects.
More Info
Recent guest artists include Branford Marsalis, Sean Jones, Walter Smith III, Ben Wendel, Ingrid Jensen, Ulysses Owens Jr., Terell Stafford, Vijay Iyer, Patty Darling, Kendrick Scott, Ellen Rowe, Kneebody, and Julian Lage.
The Oregon Jazz Ensemble recently toured Europe, performing at four jazz festivals in Switzerland, France, and Italy. Since 2000, OJE has been named the "Outstanding College Big Band" eight times at the prestigious Reno Jazz Festival… more so than any other college ensemble.
In the past fifteen years, UO students have won solo awards sponsored by the Reno Jazz Festival and Downbeat magazine dozens of times.