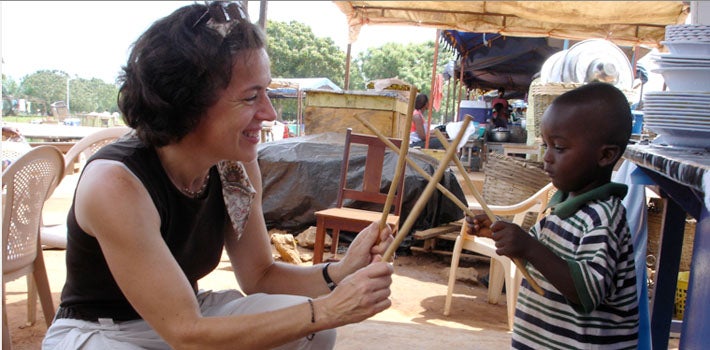 Undergraduate degree: BA
The Department of International Studies provides a solid foundation for students interested in the complex political, economic, social, and cultural interrelationships that exist among nations.
In Touch with the Global Community
The idea of "the global community" is becoming increasingly important as advanced communication and resource allocation bring nations and peoples together. If you're interested in this dynamic relationship, international studies at the University of Oregon is a great way to approach it.
A major component of the international dynamic is figuring out how different nations can cooperate peacefully and respectfully. This involves an understanding of cross-cultural communication, issues of human rights, and conflict resolution. The UO's Department of International Studies allows you to explore all of these aspects of international relationships.
The department's curriculum is designed to allow you to apply international studies to other subjects and disciplines. Maybe you have an interest in urbanization and migration, environmental change, or diplomacy and law. A working understanding of these issues from an international perspective is a must in an increasingly globalized world.
International studies is also an excellent focus for students interested in teaching and education. Many countries seek U.S. teachers, and at the UO you can focus on English as a second language or on international education.
The UO's course work in international studies is rigorous and challenging. Majors are required to complete an international core, a geographic or regional focus, and a professional concentration. This involves completing some general studies, then picking a region that interests you, and finally fine tuning your major toward a professional goal. You will receive support from the program as a whole and individualized attention within your professional concentration. Upon graduation, you'll find you're already a part of the global community.
Points of Interest
Your course of study will be tailored to meet your individual career objectives, leading to opportunities in education, government, law, communications, business, non-governmental organizations, philanthropic organizations, and private voluntary organizations.
The department assists students majoring in international studies in locating international internships, such as working with a human rights organization in Jordan or a small international export company in Spain.
More than 90 UO study abroad programs give students first-hand exposure to international culture and issues.
Students apply international studies to one of fourteen professional concentrations such as economics, development, art, environment, journalism, or human rights.
Sample Courses
Value Systems in Cross-cultural Perspective is an introduction to values and social orientations in various world cultures, with a focus on how values relate to economics, politics, patterns of conflict resolution, and social change.
International Human Rights introduces global concerns associated with implementing a system of universal human rights.
Aid to Developing Countries examines the history and current realities of international development and assistance, culminating in a hands-on student driven aid consortium simulation.
The Development and Social Change series explores current development challenges and social transformation in distinct world areas including Latin America, South Asia, Southeast Asia, and Subsaharan Africa.
Cross-cultural Communication focuses on skills and insights needed by professionals working in cross-cultural settings and how values, development, education, politics, and environment are central to cross-cultural understanding.
See more courses offered by the Department of International Studies.
Hands-on Learning
Internships are an ideal way to apply skills and knowledge learned in the classroom to a real life setting, and completing an internship while you are studying abroad is a perfect way to work and study in an international context. The UO's Department of International Studies can help you get involved with volunteer organizations such as United Nations Volunteers. "The study abroad experience is what makes the educational portion of the International Studies major come full circle," says Claire Michel, an international studies major. "Study abroad works hand-in-hand with classroom experiences to add depth and understanding, in a real, first-hand, modern context, to the subject matter studied in the IS major."
Interdisciplinary Opportunities
International studies is, by nature, an interdisciplinary major. The six core faculty members come from a variety of disciplines including sociology, linguistics, political science, ethnic studies, and anthropology.
After you complete a core of departmental requirements, you will study the region of your choice by taking history, geography, and anthropology courses. You will also take foreign language courses and study subjects such as education, business, and political science. For your professional concentration, you can choose courses that will help attain your post-graduation goals.
The Student Experience
After enduring Chicago's cold winters, William Brooks was excited for a change of scenery in Eugene. Originally interested in sports business, Brooks eventually found himself drawn to the encouraging and comfortable classroom atmosphere of the International Studies Program. He especially appreciated the study abroad and foreign language requirements and travelled across China twice, studying logistics management, consulting, and cost analyses. Brooks earned a Rinchem certification to handle dangerous goods and plans to continue consulting in logistics management in China.
It took a little while for Aloura DiGiallonardo to find her niche at the UO, but when she found international studies, she knew she was headed in the right direction. From joining the debate team to studying in Senegal and speaking three foreign languages, DiGiallonardo discovered what she was capable of. When she isn't curled up in a library chair with a book or hanging out with friends on 13th street, she is volunteering at Slow Food UO or Slavery Still Exists Oregon. Her undergraduate thesis will examine the relationship between Senegalese hip-hop and political elections.
When it came to choosing an undergraduate major, Taylor London wanted something specific: to study international law diplomacy and human rights in Asia. The UO's International Studies Program offered exactly what he was looking for and more. With the guidance of dedicated and knowledgeable instructors such as Daniel Buck and Jean Wu, London earned a degree with minors in Chinese and in business and completed an internship teaching English in China. "I learned to appreciate, evaluate, and view cultures from their perspectives which helped to minimize culture shock once I was in China," says London. He hopes to join the Holt International adoption program and work as program coordinator in the China division.
Featured Faculty
Kathie Carpenter is an Associate Professor and director of undergraduate studies in the Department International Studies. Her research is centered on the experience of childhood as lived in and constructed by different societies around the world, especially in Southeast Asia, her primary geographic specialization.
Derrick Hindery is an assistant professor in the departments of International Studies and Geography. His research examines the effects of economic restructuring on sensitive ecosystems and indigenous communities in Bolivia. His current research involves the social and economic impacts of natural gas and mining projects.
Professor Anita Weiss is head of the Department of International Studies. She has written several books on social development, gender issues and political Islam in Pakistan. Her research focuses on how distinct Muslim communities in Pakistan and elsewhere in the Muslim world are articulating their views on women's rights and implications this has on development prospects. Her primary geographic specialization is South Asia, with secondary areas in Southeast Asia and the Middle East/North Africa region.
Stephen Wooten is an associate professor in the deaprtments of International Studies and Anthropology. His research explores the connection between economic and cultural life. He has conducted ethnographic research on "the art of livelihood" in rural Mali, West Africa and on the interactions between economy and culture, especially in the process of the "relocalization" of agriculture.
Career Opportunities
You can apply a major in international studies to many careers—from law and business to teaching and human rights activism to international politics and diplomacy. Many developing nations need food and supplies to support their people, and if you have interests in agriculture and environmentalism, you might want to explore a career in international agriculture. A major in international studies has proven to be a strong foundation for far-reaching professional futures that can take you around the globe or put you to work in your very own community.
Department of International Studies
Contact Information
(541) 346-5051
(541) 346-5041 fax