Max Thayer
Major: General social science (applied business and economics track)
Minor: Computer and information science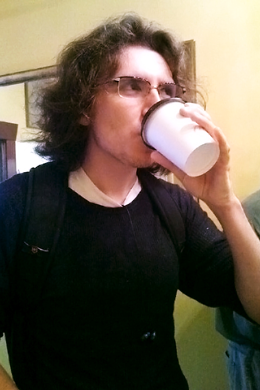 Max Thayer has never been afraid to blaze his own trail. Thayer is one of the very first students to adopt the UO's major in general social science.
When Thayer was younger, he invented four languages. He considered majoring in linguistics, but knew his interests (and talents) in other fields including the humanities, social sciences, computer science, and business, were too great to ignore. It is the breadth of those varied interests that makes Thayer a great candidate for a major in general social science.
"Max strikes me for his intelligence, drive, and imagination," says Professor Reuben Zahler, general social science program director. "He's a great example of how the general social science program blends the analytical rigor and intellectual flexibility of a liberal arts education with a career focus."
Thayer has found his academic niche. "I'll leave the UO with not only job skills like accounting, market analysis, and business management, but also the intellectual rigor and curiosity to get the most out of these skills," he says. "I can ask the hard-hitting questions and perform the abstract, qualitative analyses that can transform the way we think about problems and help us answer them more easily—or better, help us ask even deeper questions."
The general social science major prepares Thayer for work with think tanks, NGOs, and business, but he isn't looking for just any job. In a move characteristic of a student whose college jobs have included technology consultant, management consultant, website designer, game designer, and tutor, Thayer wants to create his own opportunity.
"The ability to ask transformative questions and flip paradigms on their head is worth its weight in gold to the right employer," he says. "The sort of companies that general social science folk will find themselves at will waste no time in putting their already considerable capacity for abstract thought to use on resolving tough questions."
Thayer is not yet sure where his creativity and intellect will take him. Along the way, he will have help from Zahler and other supportive professors from several UO departments in a cross-campus collaboration that mentors general social science students.
"I sit down for chats with them from time to time and throw ideas at them about everything on my mind," says Thayer. "They've presented me with several conundrums to chew on and provided me with fantastic feedback for my ideas."
Text by Jennifer Snelling.
Photo courtesy of Max Thayer.