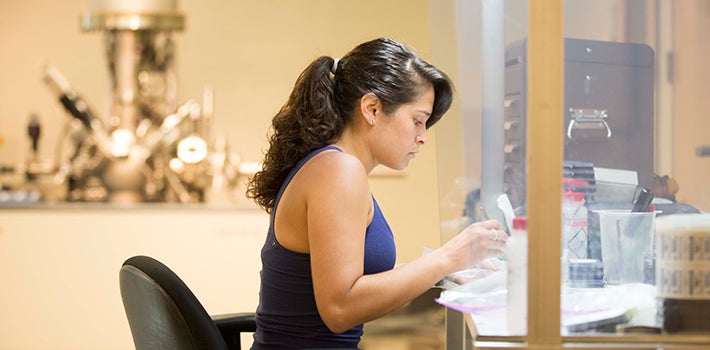 Undergraduate degrees: BA or BS
Flex Your Science Muscles
Learn the secrets of outer space in astronomy while creating tasty new flavors in a chemistry class. Help archaeologists dig up preserved human skeletons while earning credits in anthropology and human physiology. Design original experiments using zebrafish in the morning before competing in a chess tournament in the afternoon. Discover what it truly means to explore the realm of science. Because it is broader than most undergraduate degree programs, the general science curriculum enables students to develop skills that relate to a wider variety of topics, ideas, and experiences. The program can be tailored to fit your personalized goals and will provide a basic mastery of multiple scientific fields.
As a general science major you will be able to take classes in astronomy, chemistry, biology, computer information science, anthropology, geology, physics, and geography. Trained advisers will help you take full advantage of the program and carefully design your own course schedule. Consult frequently with your adviser and with faculty members on the program committee, so they can help you in choosing courses and identifying career goals. They can also provide assistance in applying to professional schools or training programs that require completion of additional courses beyond those required for the general science major.  
Points of Interest
Master several disciplines by completing a variety of course work required for the major   
You can use this flexible major to become a writer or teacher just as easily as you can use it as a stepping stone to medical school   
Field study opportunities in geology, biology, physical anthropology, and marine biology will take you out of the classroom and into the spectacular Pacific Northwest environment
Design your own academic program and tailor your studies to your interests by choosing your areas of specialization from a range of sciences
Sample Courses
Introduction to Human Evolution looks at Homo sapiens as a living organism, with a focus on biological evolution, genetics, and fossil hominids 
Human Cadaver Dissection incorporates the dissection of one region of a preserved human cadaver and preparation of the specimen for the anatomy laboratory experience
General Chemistry Laboratory teaches laboratory skills through chemical reactions and writing equations, phase diagrams, equilibrium constants, acid-base titrations, voltaic cells, and exercises in kinetics and inorganic chemistry
Biogeography studies the relation of plants and animals to the environment by examining the distribution of individual species as well as historical changes in plant distribution
Food and Culture takes an anthropological approach to the role of nutrients in human development, cultural determinants and differences among populations, and world food policy
Introduction to Data Structures is a computer and information science course that explores the design and analysis of data structures as means of engineering efficient software
Biopsychology examines the relationships between brain and endocrine activity and behavior, with topics including sensation, perception, sexual behavior, drug effects, eating, drinking, sleeping, dreaming, and learning
Immerse Yourself
General science gives you the opportunity to take many laboratory courses in chemistry, physics, and biology. Field studies in geology, anthropology, and marine biology can take you to nearby coastal, forest, high desert, and alpine environments. All motivated science students can seek out research opportunities as well.
Science minors (biology, chemistry, geology, physics, mathematics) are relatively easy for the general science student to obtain, since you can double count upper division courses taken for the general science major in your minor. Some general science students choose a language as their second major, especially if they are interested in career fields where bilingualism is an asset, such as teaching.
If you have an interest in environmental problem solving, a second major or a minor in planning, public policy and management (with an emphasis in resource development and environmental management) is a perfect fit.
The Student Experience
Instead of choosing one area of scientific emphasis,
Rachel Pilliod
taste-tested her way through biology, organic chemistry, mathematics, and geology. The General Science Program allowed her to take classes that interested her such as
Janis Weeks
' Tropical Diseases in Africa class. Starting her academic career at a small UO campus in Bend, Oregon, Pilliod honed her knowledge at the
Bend Research
pharmaceutical lab. She then moved to UO's main Eugene campus where she studied, played chess, and attended Duck games with dozens of like-minded individuals. Now, with her strong scientific background, Pilliod plans to attend medical school.  
"Between the classes, the campus and, most importantly, the people, it is a pretty amazing thing to be a Duck," says Rhiannon Tooker. After leaving her home in Australia for the UO, Tooker decided to pursue a major in general science. Availing herself of the flexibility of the general science major, Tooker took classes in chemistry, algebra, and calculus as well as anthropology, geology, computer science, geography, and psychology. When she wasn't studying, she was playing volleyball, attending sporting events, and learning from outstanding professors. The Queensland government recently hired Tooker to work in Air Sciences.
Featured Faculty
The General Science Department is comprised of faculty members from many of the science departments, including chemistry, geological sciences, human physiology, mathematics, anthropology, and biology.
Senior instructor
Tim Jenkins
specializes in physics education. He teaches the essential elements of physics to myriad students from multiple disciplines including architecture, pre-health, and general science. Jenkins has taught at the UO for 20 years and is a member of the
American Physical Society
and the
American Association of Physics Teachers
. He enjoys chance encounters with past students and learning where their education has taken them. When he isn't teaching, Jenkins enjoys performing folk music.  
When biology professor
John Postlethwait
isn't teaching classes in the evolution of development, molecular genetics, or cell structure and function, he is studying developmental gene research in Antarctic fish. Antarctic fish exhibit a brittle osteoporotic bone structure that has led Postlethwait and the
National Institute of Aging
to study comparisons between their bones and human osteoporosis. He has written over 200 scientific papers and 10 textbooks.           
Adjunct instructor
Jon Runyeon
is fluent in the language of anatomy. From assisting with research in biology and neuroscience to patrolling ski slopes as a medic, Runyeon brings his knowledge of real world human physiology into the classroom. One of his favorite classes to teach is the
Human Cadaver Dissection
pro-section course where students are given the rare opportunity to learn the difference between textbook anatomy and the real thing. He says the most rewarding aspect about teaching is watching students come to 8 a.m. classes excited to learn and then apply their knowledge to subjects like bioengineering, art, medicine, and dance.
Career Opportunities
General Science can work for many career interests. It can be appropriate for students interested in health-related careers in medicine, dentistry, physical therapy, occupational therapy, and medical technology. Pre-engineering students have used the major to gain a broader scientific background than is provided in traditional pre-engineering programs in chemistry or physics.
Combined with a second major or minor in English, general science can be excellent preparation for a writing career in science, technology, or natural history. Combined with a major in a particular science discipline, general science can provide a supporting upper-level breadth. The major also works well for students who want to teach elementary or middle school science. A bachelor's degree in general science can be useful in many careers in medicine, dentistry, education, and research. When combined with other majors or minors, a degree in general science can also be excellent preparation for careers in law, business, and public relations.
Contact Information
(541) 346-3288