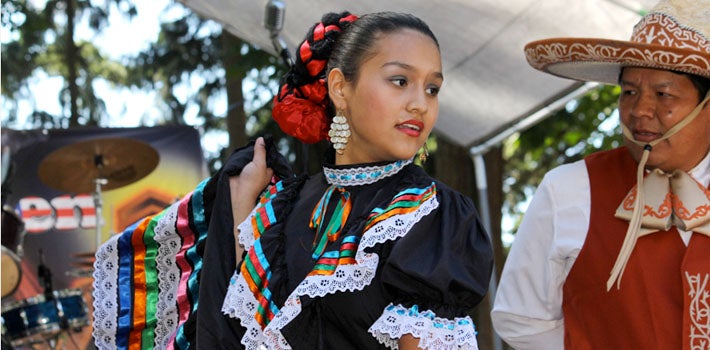 Undergraduate degrees: BA or BS
Undergraduate minor
Thriving in Diversity
Does immigration benefit society? Are census questions about race outdated? How do issues of race and gender affect women in the work force? At the University of Oregon, the Department of Ethnic Studies explores the answers to these questions and much more. Politics, health care, and education are just a few of the areas where race and culture intersect.
The ethnic studies department emphasizes the experiences of ethnic minorities within the United States while also exploring experiences across national boundaries. The course of study stresses a comparative approach, making connections among a host of areas, including history, literature, political science, and cultural anthropology. Although you may choose to focus on one of four areas—Native American; African American; Chicano and Latino; or Asian American studies—you'll learn about each ethnic group in relation to others.
In our increasingly diverse society, racial and ethnic equity is central to the debate about the fairness of our laws, organizations, and policies. Cultural competency is increasingly important as the world becomes smaller and people from different cultures connect, overlap, and learn from each other. From creating a documentary film about social inequality to analyzing how the Middle East has changed politically in the twenty-first century to organizing events and meeting leading professionals from across the nation, the opportunities for ethnic studies students are limitless.
Points of Interest
Each year, the department invites distinguished speakers for the annual Peggy Pascoe Memorial Lecture, which covers important topics on race, gender equality, sexuality, and more. Past lectures topics have included the intertwined history of racial justice and sexual violence and race and citizenship in American immigration politics.
Core faculty members specialize in the social and cultural issues of people of African, Asian, Latino or Latina, Middle Eastern, and Native American descent.
Multiple organizations like the Center for the Study of Women in Society, the Wayne Morse Center for Law and Politics, the Center for Latino/a and Latin American Studies, and the Center on Diversity and Communication provide opportunities for students to conduct interdisciplinary research in numerous areas.
Students have the opportunity to learn what it takes to run a significant annual event such as the Social Justice Real Justice conference. "It's really inspiring to see the students' energy and passion for organizing the conference," says department head Lynn Fujiwara.
Each student in the department is encouraged to complete a senior thesis, which brings their main interests and previous assignments together into one cohesive project. Students learn what it takes to conduct original research giving them the experience needed to succeed after graduation.
Sample Courses
Introduction to Ethnic Studies focuses on the multifaceted identities of Americans of African, Asian, Latino, and Native American descent. Topics include group identity, language in society and culture, forms of resistance, migration, and social oppression.
Caribbean Literature and Politics discusses how Caribbean literature employs themes of colonialism, sexuality, racism, migration, state violence, nationalism, and identity.
Women of Color: Issues and Concerns addresses contemporary social issues and feminism among women of color in the United States.
Race and Incarceration introduces several key questions necessary for understanding the crisis of prisons and incarceration in the United States, with an emphasis on race, gender, and class.
History of Native American Education investigates the historical conflict between traditional culture and knowledge transmission among Native Americans and the assimilationist education system and practices of Euro-American culture.
See more courses offered by the Ethnic Studies Department.
Immerse Yourself
In addition to an introductory sequence of courses and a class on theories of race, ethnic studies majors are given the option to take a variety of courses from other departments that include comparative literature, history, sociology, philosophy, anthropology, English, and more. "We offer an interdisciplinary perspective on race and ethnicity, as well as an opportunity to pursue those topics in greater depth than in traditional departments," says Professor Michael Hames-García.
Students may participate in a variety of campus organizations, including the UO Multicultural Center, and more specific groups, such as Movimiento Estudiantil Chicanos de Aztlan (MEChA) and Mujeres; Black Student Union; Native American Student Union (NASU); and Coalition Against Environmental Racism.
Local community groups welcome ethnic studies interns to work on a variety of projects such as helping to draft legislation and increase retention rates for students. However, you don't have to stay in town if you're inclined to travel. Many students take advantage of the UO's wide variety of
study abroad programs
where they can study social justice in Mexico, Africa, the Caribbean, or a number of other countries.
The Student Experience
After winning an award in high school for academic excellence, Jessica Rojas was inspired to make the most out of her collegiate career. Pursuing ethnic studies alongside environmental studies, she learned that social justice and environmental justice go hand in hand. Through the UO's Many Nations Longhouse, NASU, Center for Multicultural Academic Excellence, and the Women's Center, Rojas found supportive groups of friends and priceless experiences that will last her a lifetime. "Trying to connect one community with another isn't easy, but after what I've learned from classes and my experiences with student groups I've learned what it means to be a bridge between communities." She has enjoyed participating in the Lilly B. Parker speaker series and facilitating classes in women's and gender studies.
After taking her first ethnic studies class,
Rachael Brown
never looked back. While pursuing her interest in political science, she discovered her niche in criminal justice reform work. During her years at the UO, Brown helped organize events at the Multicultural Center, raised awareness about incarceration in Oregon, and completed her senior thesis. "Graduation from the ethnic studies department was an incredible experience," she says. "After spending four years with the same small group of people and working closely with professors, we've become a family." Next, Brown is headed for Washington, DC, to work with
Campaign for Youth Justice
on policy reform and juvenile justice.
Featured Faculty
Associate Professor Daniel Ho Sang has been studying racial politics, prison issues, and reproductive justice in California for most of his career. After working with several nonprofit social justice groups across California and Oregon, Ho Sang decided to settle at the UO where he liked the ethnic studies department's close-knit community. "The ethnic studies department is a place where students can grow, learn, and feel like they are part of a community where people know their name and are interested in their projects," he says. He enjoys teaching his students how to explore the complexities of specific debates in classes like Race, Gender, and Sports and Racial Politics. He is currently working on projects concerning sex offender laws and prisons in Oregon.
After teaching English in New York, Professor Michael Hames-García jumped at the chance to join the ethnic studies department in his home state of Oregon. Taking a break from research after finishing two books on identity and multiplicity and gay Latino studies, Hames-García is happy to focus all his attention on teaching classes like Social Equity and Criminal Justice. "It has been especially exciting to see students develop critical recommendations for political policies," he says. "Their results have stood up to proposals made by professionals in the field." He recently won a Lambda Literary Award for his part in editing the book Gay Latino Studies: A Critical Reader.
Career Opportunities
Ethnic studies graduates thrive in a host of diverse careers. Majors go on to careers in public service, nonprofit and community organizations, human relations, and education. The ability to look at issues from multiple perspectives is a skill that translates well in a variety of settings. Labor unions, hospitals, large corporations, global network organizations, and universities all need workers with the skills to help increase diversity and prosperity for people from all cultures.