Gabriela Depiante
Majors: Economics and international studies
Concentrations: Diplomacy and international relations
Minors: Italian and business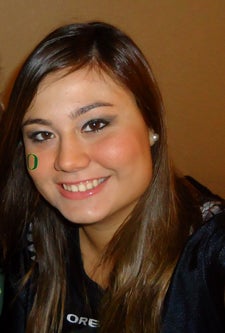 University of Oregon student Gabriela Depiante is new to economics. She considered majoring in chemistry or business, but says the Office of Academic Advising helped her develop an educational plan that would help her reach her goal of working in international diplomacy.
"The staff in academic advising really helped me with my choice by clarifying my questions and concerns," she says. "And guiding me on how to best utilize the school's resources—i.e. orientation, the career center, peer advising groups, internships, work study, study abroad programs, etc.—to my advantage."
Once she had her major figured out, Depiante made herself at home in the economics department, eventually being awarded the Grace Miller Economics Scholarship. She says the department excels at providing tools and experiences that improve one's problem-solving skills.
"I feel really honored by the confidence the faculty members have in me and I truly believe the economics department gives opportunities and encourages all students to succeed," says Depiante.
Depiante has developed important skills through experiences on and off campus. She has worked as a Portuguese tutor at the Yamada Language Center and World Languages Academy, worked for Levi Strauss & Co. in a language-based position, and is currently studying abroad at the University of Pavia in Italy.
"The UO prepares students for these leadership positions because we are encouraged to think broadly, creatively, and critically," she says. "Also, faculty members make substantial effort to bring hands-on learning to classroom, and the university provides the students with a lot of resources to enhance the essential skills acquired through college education."
Text by Jennifer Snelling MA '01