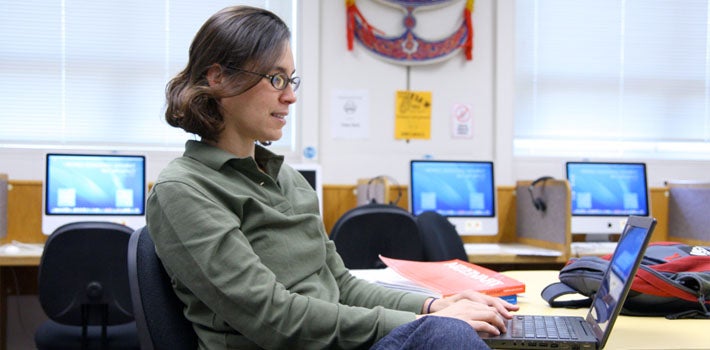 Undergraduate degrees: BA or BS
Undergraduate minor
Building Solutions
Calling all creators, designers, and problem solvers. A degree in computer information science will give you the toolkit you'll need to succeed. As computer technology becomes increasingly intrinsic to countless aspects of daily life, the spectrum of career opportunities in this field continues to expand. By the time you graduate from the Department of Computer and Information Science (CIS), you'll be a computational thinker who will flourish in nearly any profession you choose.
You'll study the computer as a machine—both concrete and abstract— and the management of information. Through your courses in computer and information science you'll master the design and analysis of algorithms, programs, systems, and programming languages. The CIS department offers instruction and opportunities for research in the following areas:
Theoretical computer science: computational complexity, models of computation, and algorithm design
Operating systems, parallel processing, distributed systems, and performance evaluation
Human-computer interaction and visualization
Programming languages and compilers
Databases and data mining
Computational science
Software engineering
Artificial intelligence
Computer security
Networking
As a CIS major, you can choose a departmental specialization or "track" that incorporates several areas of focus within the department, or you can take a multidisciplinary approach and combines areas of focus from other departments on campus. The current computer science tracks include foundations in software development, computer networks, and database and informatics. The current multidisciplinary tracks include computational arts: business information systems and computational science. These tracks will prepare you for a career in the private or public sector as well as advanced graduate-level study.
Facilities
The CIS department is housed in Deschutes Hall, which holds faculty and graduate student offices and extensive laboratory space for research and instruction. Research projects as well as hands-on systems and networking courses are held in the Intel Systems research and education laboratory, which houses specialized equipment including Intel multicore workstations, dual-boot PCs, and a variety of networking hardware resources. If you choose to engage in active research, you'll also have access to the computing facilities of the associated research lab.
Other facilities include:
The Human-computer Interaction Laboratory offers specialized equipment for interactive-systems research.
The Cognitive Modeling and Eye-tracking Laboratory, featuring multiple Eyegaze eye trackers, is used for collecting and analyzing the eye movements people make during human-computer interactions. This lab is also used to develop eye-controlled user interfaces for people with disabilities.
The Advanced Integration and Mining Laboratory fosters research on finding useful patterns from the mountain of data on neuroscience, medicine, biology, and networking, and on integrating data from heterogeneous resources such as databases, the Internet, and the Semantic Web.
The Network Research Laboratory features machines for research projects, including three academic nodes (a gift from Intel) connected to PlanetLab (a global research test bed).
The Computing Laboratory uses a mix of custom-designed and commercial hardware to study the application of assistive software to everyday living. In this lab, researchers design software for persons with and without cognitive impairments.
The Visualization Lab has a tiled LCD display wall, 3-D stereo, and a high-definition tiled rear-projection system.
Research in high-performance computing and computational science is supported by multiprocessing and storage resources shared between the department, the Computational Science Institute, and the Neuroinformatics Center.
Points of Interest
The minor in computer information technology (CIT) prepares students to work with evolving technologies for work environments that require development and management of business databases, computer networks, web applications, and software systems.
Ambitious students have the opportunity to acquire real-world experience through student groups, WICS (Women in Computer Science), summer programs, events, and honors societies.
Undergraduates can also participate in research groups investigating topics such as artificial intelligence, human-computer interaction, and theoretical computer science.
Incoming students can enroll in FIGs (Freshman Interest Groups) that incorporate classes and activities in computer science.
Each year the department hosts three programming contests.
Sample Courses
Introduction to Artificial Intelligence picks apart theories and specific examples of knowledge-based computer systems.
Multimedia Web Programming introduces the basics of web communication, webpage function, and design. Students become familiar with digital media including graphics, animation, video, and sound and use software to create interactive multimedia.
Database Systems invites students to discover database design and access with a focus on database concepts, data modeling, normalization, data warehousing, query languages, and the formulation of complex queries.
Making and Breaking Codes traces the history and structure of codes from ancient times through the present. Students will design codes of both classical and modern forms. They will also construct "public keys" for receiving messages that they alone can decode.
Network Security gives an overview of network security issues while looking at several of the most representative security problems. Students will also investigate commonly practiced solutions.
See more courses offered by the Department of Computer and Information Science.
Outside the Classroom
In addition to its traditional track, the department offers an interdisciplinary track for students interested in diversifying their undergraduate experience. Apart from majoring or minoring in fields such as biology, neuroscience, physics, geography, and math, you can also delve into these departmental specializations: bioinformatics, computational biology, computational arts, and multimedia and business information systems.
Internships can provide you with invaluable practical work experience as well as course credit and/or pay. A number of year-round local opportunities, as well as many summer internships, are available, some even involving travel. There is also a seminar available for students interested in learning about job opportunities and meeting professionals in the field.
The Student Experience
Even though she didn't know how to write software yet, Melody Li was ready for a computer science challenge; she jumped right into the core courses and never looked back. "Most people think that computer science is all about math, but there is also a real art to writing programs," says Li, who has taken numerous art courses and is double majoring in Japanese. She says that she has always felt at home in Deschutes Hall, where the CIS department is located. "From the ladies at the main office, who always have candies, to the student lounge, where students can study, relax, eat food, and work on projects, the atmosphere is always warm and welcoming."
Originally haling from a small town in Alaska, Peter McKay couldn't wait to see what Oregon had in store. With support from professors like Kevin Butler, McKay tackled exciting courses and completed an honors thesis about the usability and efficiency of a domain specific language (which he created explicitly for his thesis). He is vice president of Upsilon Pi Epsilon and hopes to establish a tutoring center for computer science students in the science library. McKay plans on specializing in security for computing systems and will continue his graduate education at the UO. His favorite place to hang out is Noodle Head, where "tremendous quantities of delicious Thai food" are readily available.
Featured Faculty
After 15 years as a professional programmer and researcher at UC Davis and UC Berkeley, Associate Professor Hank Childs is excited to start a new adventure in Oregon. Specializing in the field of visualization, Childs transforms complex data sets into visual displays to help audiences around the world clearly understand the information. He also researches engineering strategies used to construct the world's largest super computers. When he isn't busy in the CIS department, he is watching Ducks games and enjoying coffee at Marché. Childs also enjoys scuba diving and if he had a super power, it would be the ability to breath underwater.
With his knowledge and skills in software engineering, Professor Stephen Fickas has contributed to a variety of projects including developing technology that assists cognitively impaired individuals with reading comprehension, writing software that uses televisions to remind people to accomplish tasks, and assisting a NASA team of specialists to blow up a comet and analyze its contents. One of Fickas' favorite classes is the mobile apps class, where a variety of students learn how to design applications for smart phones and tablets. Fickas lives for designing software that supports and empowers individuals in the community. He says that it is incredibly heartwarming to know that people have benefited from the software he has created.
Career Opportunities
A background in computer and information science prepares students for dozens of different types of careers. From research to web design to improving the lives of the disabled to truly futuristic interactions between humans and machines, students in this field are on the cutting edge of prospective careers.
A major in CIS would allow you to manage computer network systems in departments or even large companies. You would also have the knowledge and skills necessary for creating complicated computer graphics and designs. With a major in CIS you will also be able to handle information systems and networks within an organization. The major is practical, versatile, and easily applicable to a number of modern careers.