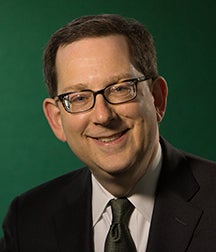 Welcome to the University of Oregon family! I am thrilled that your student has chosen to live and learn among the UO community of scholars.
Educating your student is the university's primary goal, and we're here to help make the transition to academic life a smooth one. We want all our Ducks to leave the UO ready and eager to question critically, think logically, communicate clearly, act creatively, and live ethically. I know we will reach that goal by drawing on our shared commitment to supporting your student's education—a commitment shared by our talented faculty and staff.
The first year of college is an exciting time for the whole family. We know parents and family members have questions about all kinds of things, from major requirements and registering for classes to residence life and health services. So please do not hesitate to call upon us in support of your student.
I look forward to sharing your pride and applauding the class of 2021 as we celebrate together at graduation.
Go Ducks!
Michael H. Schill President, University of Oregon