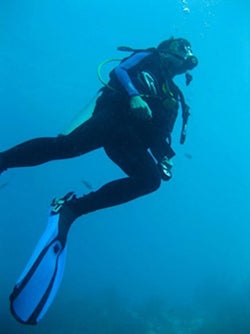 Hometown: Troutdale, Oregon
Major: Marine biology
An Unforgettable Experience
After dinner one night, we decided to go diving, strictly for fun. I was still a scuba novice at that point and the thought of diving at night was frightening. Much more planning and thought goes into a night dive. When the only light in front of you is coming from your flashlight, the risk of something going wrong is much greater.
As soon as the dive began, all my fears disappeared. After we dropped to the reef, I was overwhelmed by how it had truly come to life. Brittle stars stuck their slender arms out in hopes of catching microscopic plankton. Soldierfish darted from one hiding place to the next, their big black eyes aware of your presence. No doubt that dive helped me become more confident in the water. If you can dive 90 feet in pitch-black, you feel like you can do anything.
Take the Plunge
The curriculum was pretty intense. I received 27 credits for the program, including 22 upper-division biology credits and the remainder were in scuba and environmental studies. The program also awards PADI Advanced Open Water and Rescue Diver certifications. In addition, each student undertook an independent research project that culminated in a printed journal of everyone's work at the end of the program.
We stayed on the small island of Bonaire most of the time, but we had the opportunity to visit other places in the area, including traditional villages, historical monuments, and dozens of dive sites. The living situation included a gated, communal house that had five rooms with a shared kitchen and study space. Across the street from the house were the classrooms and labs. Lunch and dinner were catered every weekday, and a brunch spread was offered every Sunday.
Challenges Worth Facing
One of the most difficult aspects of the program for me was the workload. We were busy from 8 a.m. to 5 p.m., Monday through Saturday, with several hours of homework each evening. It wasn't overwhelming if you understood that the program wasn't a beach vacation, but getting used to doing work while living on a Caribbean island took some time.
Since being back in Oregon, I've spent three terms at the Oregon Institute of Marine Biology. I plan to go on to grad school to study coral reef ecology, focusing on how anthropogenic factors influence the overall livelihood of both the coral-reliant organisms living on the reef and the human communities affected by the degrading health of coral reefs. 
Take It from Me
You'll work hard to get your work done, you'll be exhausted from diving multiple times a day, and you'll feel like you're trapped on a desert island, but you won't want to trade it for any other experience. The Bonaire program was one of the best things to ever happen to me, and it would not have happened if I hadn't been adventurous enough to take a chance on a program I initially knew very little about.