Hometown: Wilsonville, OR
Major: Journalism: advertising
An Unforgettable Experience
While I had many unique experiences in Ghana, my day spent at the Echoing Hills Sanctuary in Accra particularly stands out. It's essentially a sanctuary for people with disabilities and includes housing and schooling for long-term residents as well as short-term educational programs for deaf men. I spent part of the day observing the school and the other part hanging out with and interviewing four deaf young men about their experiences. I also had the opportunity to act as an interpreter of sorts during lunchtime when several nursing students joined us.
From Classrooms to Newsrooms
My program was based in Accra, Ghana, where fourteen of us lived in a large six-bedroom house. On the weekends, we traveled to other major cities or areas in Ghana, including Cape Coast, Tamale, Kumasi, and the Volta Region where we stayed in hotels along the major roads.
The trip itself was worth eight credits: four credits for a Media in Ghana course and four credits for an internship program. My internship focused on graphic design for a women's magazine called Emerge. For the Media in Ghana class, we spent the first week listening to guest lectures at the University of Accra and kept a month-long journal about the media experiences we witnessed in Ghana. There was also a research assignment included where I was able to write an article about Ghanaians with disabilities for the publication Accra Mail.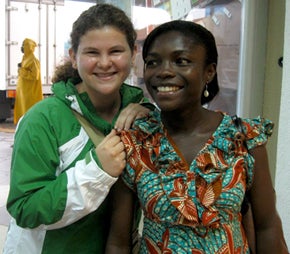 While I was in Ghana, I was given contact information for a deaf woman through Mobility International USA. I arranged a meeting with her and her husband and gained profound insight into the deaf world in Ghana. I saw her one more time before I left when she gave me my sign name, (some might call a deaf name), and based it on her "family" sign name. She and I have continued to stay in touch.
Challenges Worth Facing
The barriers of being hard-of-hearing in Ghana are similar to those in the United States. At my job, my supervisor and I were both frustrated at times because he had a thick Ghanaian accent that was difficult for me to hear. I often had to rely on an intern as an interpreter, which was frustrating for everyone.
At times, there was a bit of a cultural clash around disability awareness and understanding, to the point where I started to be careful about signing in public. I don't rely on sign language to communicate, but I have a tendency to use signs in normal conversation when I'm confused. As you can imagine, "feeling confused" happened a lot on the trip. When I signed in public, I noticed some Ghanaians became very wary of me and either backed away or turned their attention to someone else.
Ghana was the first time I was able to explore an international disability culture, and that fueled the fire for pursuing international work. I've applied to a number of international grad programs, fellowships, and post-graduation travel opportunities. I absolutely credit my time in Ghana for inspiring me to focus my journalism and advertising experience in an international, disability-oriented direction.
Take It from Me
The key thing to keep in mind when studying abroad is to be flexible. There were many times when the "official schedule" changed or was thrown out the window entirely. The pace was different, the transportation was very different, and the cultural beliefs were different—all of this will result in stressful situations unless you're willing to let things be.