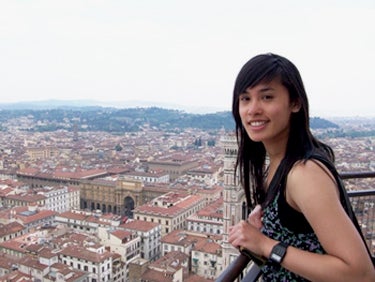 Hometown: Portland, Oregon
Major: Architecture
An Unforgettable Experience
After we finished a week in Florence, Italy, we had a few days to travel on our own before meeting up again in Vicenza. A couple of friends and I decided to spend the time on Italy's western coast in a national park called Cinque Terre. The park consists of five small villages built into the cliffs overlooking the Mediterranean. One day I was hanging out with my friends on the beach in Levanto, a town just north of Cinque Terre, and we came across a guy renting kayaks. I convinced myself that I would really regret passing up such an incredible opportunity. We paid him 10 euros and off we went! Not many people can say they have kayaked in the Mediterranean, and I am glad to say that I can.
From Books to Buildings
We completed 16 credits including a design studio course that incorporated the development of a plan for a civic building in the main town square (piazza). The building was to house government offices, an art gallery, meeting space, and commercial/retail space. I also took a class in which we investigated Italian town form, focusing specifically on different piazze. The class consisted mainly of field studies, travelling to different towns, and analyzing town squares. My two-credit travel sketchbook class required us to produce at least one sketch a day of something that we found particularly inspiring or interesting.
For the first two out of ten weeks, 16 of us stayed in hotel rooms in Rome and Florence. Afterward, we moved into apartments and spent eight weeks in Vicenza. We also took day trips to Bologna, Verona, Venice, various smaller towns in the Veneto region, and spent about five days in Switzerland toward the end of our trip.
I lived in a larger apartment with seven other students. Our place had a nice little entry courtyard, our own kitchen, three bathrooms, and a washing machine. The apartment was close enough to our primary workspace to allow us to walk through the town center everyday on our way to class.
Challenges Worth Facing
Being away from my friends and family was the hardest thing about being abroad. However, today's amazing communication technology allowed me to Skype my friends and family often enough that I still felt connected to them.
Since returning from Vicenza, I have continued on in the architecture program. Travelling abroad has opened up my mind to a whole world of possibilities with regard to working internationally. I would love to go back to Europe, learn another language, and be immersed in another culture.
Take It from Me
Many students miss out on an incredible study abroad program because they think they can't afford it. I encourage everyone to take advantage of the great scholarship opportunities at the UO. Although it is a competitive process, if you start early enough, you can find ways to fund your trip. To help reduce the costs, I would also suggest purchasing tickets as early as possible.