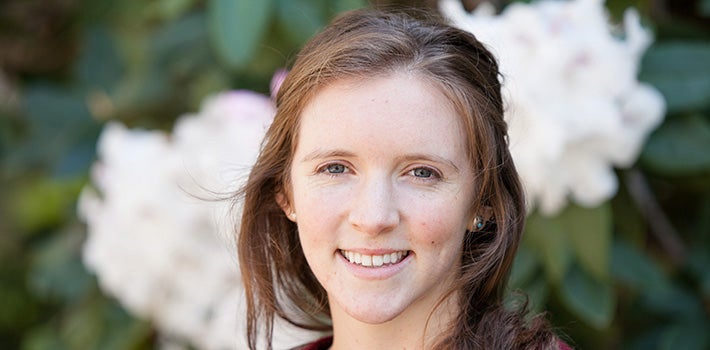 Name: Clara Schneid
Hometown: Portland, Oregon
Majors: International Studies with Spanish and PPPM Nonprofit Administration minors
How did you feel about being undecided about your major when you started at the UO? Labeling myself as "undecided" might have discouraged me slightly if I hadn't been so excited by all the freedom it gave me to explore and develop my curriculum.
How did you go about choosing a major? My process of choosing a major began before I enrolled at the University of Oregon. During the gap year I took to do national service through AmeriCorps National Civilian Community Corps, I began to develop an understanding of what type of work I eventually wanted to do for the world. Once at UO, I honed in on what I knew my passions were—the environment, nonprofit work, global community building, and Latin America. From there, I used resources such as my older friends (with more college class experience) and undergraduate advisors for undeclared CAS students, and grad student advisors in the international studies department to point me in the right directions. I did a lot of exploring, which helped me engineer my very own specific-to-me major and minor. I am now an International Studies pre-major with the regional focus of Latin America and a professional concentration in nonprofit administration, and my double minor is Spanish and Nonprofit Management through the PPPM program.
What has been your greatest achievement at the UO, so far? My greatest achievement at University of Oregon—so far—has been maintaining that balance of learning from my classes and providing myself with ample opportunities to learn elsewhere. I'm especially proud of earning a job as a grant writer and administrative worker at a local nonprofit serving at-risk youth in the Eugene area. I was also a youth group leader during Guatemalan activist and Nobel Peace Prize winner Rigoberta Menchú Tum's visit to campus in April for the PeaceJam Conference.
What are you hoping to do with your major, both while you work toward graduation and after? I cannot wait to find myself interning in Latin America this summer. I am currently researching numerous opportunities through University of Oregon's study abroad and internship programs, which directly serve my major and my career goals. I hope to live in a Chilean or Ecuadorean community and work with a locally established nonprofit organization for 10 to 12 weeks. Ideally, graduating with an International Studies major and Nonprofit/Spanish minor will make me a desirable asset to community organizations in both Latin America and in the United States. I see myself working in South or Central America for a few years with organizations focused on sustainable development, ecological conservation, or human and environmental rights. Programs such as the Peace Corps and the like always dance in my head as prospective opportunities, but as a sophomore, I am pacing myself with just a couple major goals at a time.
What advice would you give incoming freshmen or transfer students about deciding on a major or minor? Don't worry about what Forbes magazine says that you will be "most successful" doing. Deciding on a major or minor will only be satisfying and worth your while if it excites you. I apologize for the clichés. I hope that others experience the satisfactions and frustrations and the mind-blows that only come from being immersed in research that nourishes you and topics that matter.
Photo by Wendy Gregory.