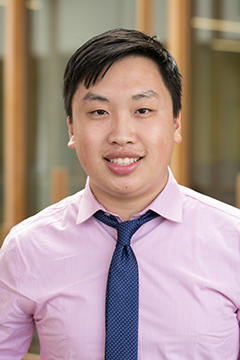 Admissions Counselor
E-mail: wing.admissions@uoregon.edu
Phone: 541-346-1272
Territories: Alaska, Indiana, Kentucky, Michigan, Montana, Ohio, Oregon: Hood River and North Coast, Wisconsin
Hometown: Beaverton, Oregon.
Alma mater: University of Oregon, B.S. '16 – Psychology, General Science, minor in Biology and Anthropology
Any family members who also attended UO: My sister attended and graduated in 2013, she's currently at studying to be a doctor at COMP NW!
Favorite thing to do in Eugene: My favorite things are to enjoy the nature of Eugene by walking, biking, and driving through the city. We have access to many parks, closeness to places where you can hike or bike, and a hospitable climate (most days!).
Tips for college success: Be sure to seek out new experiences but also maintain a balanced life. Put time in your schedule to go to class, study, do homework but also be sure to put in time to relax, eat, sleep, and enjoy life. Success will follow!
Why you decided to work at the UO: After attending the UO as a student and working as an Ambassador my senior year I sought out professional opportunities with the UO because of how important it is that students know of the possibilities that a college experience can bring. I think the UO has allowed me to grow as an individual by allowing me to learn about myself and my history while also pursuing my academic interests.
Best part of your job: Being able to be a part of a student's educational career all while living in the convenience and energy of Eugene.
Favorite Eugene restaurant: The Rabbit Hole is my favorite in Eugene because they serve authentic, alluring, and addicting Taiwanese Bubble Tea and some snacks as well.
Quote to live by:  "Do not pray for an easy life, pray for the strength to endure a difficult one." —Bruce Lee
Favorite Duck: My favorite duck is Peking duck with hoisin sauce and scallions.
If you didn't work at the UO: I would be pursuing a graduate degree in Counseling Psychology or possibly in Higher Education.
Favorite campus hangout: The EMU, specifically the Multicultural Center (MCC) and its affiliates, are my favorite places to hang out. The space is open for all and the people there are engaged in social justice and you will leave feeling reenergized and reaffirmed.
Most memorable college class: I took PSY 412 – Applied Data Analysis my senior year and really enjoyed learning a lot about statistics and how to manipulate and present statistical findings. Although difficult, statistics is one of the most important fields to be proficient at.
Final thoughts: Advocate for yourself and be responsible for your own success. There are opportunities that only you can fulfill at the UO.