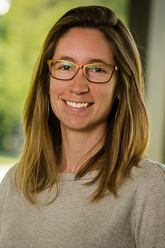 Admissions Counselor
E-mail: kathryn.admissions@uoregon.edu
Phone: 541-346-1247
Recruiting territories: Montana, North Carolina, Oregon – Eastern Oregon, South Carolina, West Virginia
Hometown: Missoula, Montana
Alma mater: BA from the University of Montana in environmental studies and honors; MA from the University of Oregon in international studies with specializations in cross-cultural communication, international education, and Africa.
Any family members who also attended UO: I am the first and only one, for now!
Favorite thing to do in Eugene: I love how close Eugene is to myriad outdoor activities. Whether it is camping, hiking, biking, backpacking, skiing, or floating the river—I love to adventure close to home.
Favorite UO fun fact: If you have not heard about the tradition of the "Hello Walk," ask a friend!
Favorite hang-out place on campus: Our campus is beautiful. My favorite places to be are under any of the hundreds of trees, with a picnic lunch and a friend.
Most memorable college class: My favorite classes were all housed under the Department of International Studies. I value a global mindset, and being submersed in coursework devoted to this was an enriching experience. If I had to pick one, I would say my favorite was the course Global Political Economy of Development (INTL 407/507) with Professor Angela Joya.
Why you decided to work at the UO: I fell in love with the UO and the dynamic student population during my MA degree. I chose to specifically shape my degree around fueling a career path in student support and engagement. My goal was to work for the UO so that I didn't have to leave the community that I built on campus and in Eugene. I could not be happier with where I am, who I work for, and the people I get to support on a daily basis.
Best part of your job: I am a people person. I like interacting with folks from all walks of life. I am able to learn an incredible amount about myself and the world through my everyday interactions in this position. This job allows me to constantly expand my horizons by engaging with a wonderfully diverse range of prospective students and families. 
Favorite duck: My favorite Ducks pop up during game days. You will find them sticking out of rolled up car windows, shut trunks, or children's backpacks. They always look primed to have a good time entertaining their owners and supporting their team! They collectively showcase the community this town creates around our amazing athletes.
Special skills, talents, and hobbies: I served in the US Peace Corps for two years in the beautiful and peaceful country of Zambia. I learned to speak the language Kiikaonde in my small rural village of Kyafukuma. I recently returned to Zambia to conduct my master's research and used this language to write key parts of my thesis. Zambia has roughly 72 languages and more than 170 dialects; Kiikaonde is spoken by about 2 percent of the country. I am a true believer in learning new things that challenge the way we think and act in the world.
Favorite Eugene restaurant: You cannot beat the restaurants around campus that provide our UO community with nutritious and delicious food! I am torn between Caspian and Sweet Basil; both have great variety in their menus.
Favorite quote or song lyric: My host father in Zambia once told me, "Don't think too much or you'll run into something." This little piece of wisdom keeps me mindful and present.
Tips for college success: Be proactive and stay ahead of the game. Always be thinking about a few weeks from wherever you are in the term. In this way you can plan and execute your coursework without getting flustered by things that may pop up unexpectedly. You will also have a better idea of when you can take downtime and playtime! Having a balance in college is key. 
If I didn't work at the UO: I love to travel and would most likely find a path that allowed me to explore the world in some capacity. 
Closing thoughts: The UO helped me to define what I care about in this world, allowing me to feel more grounded in my personal and professional endeavors. It is an honor to work hard every day, inspiring others to do the same.