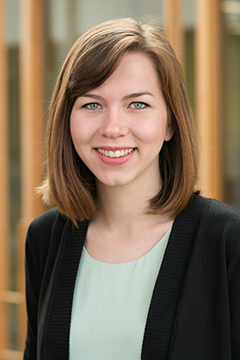 Admissions Counselor
E-mail: felicia.admissions@uoregon.edu
Phone: 541-346-1629
Territories: Idaho, Iowa, Kansas, Missouri, Nebraska, Oklahoma, Oregon: Douglas County and Southern Oregon/South Coast
Hometown: Born in Sarasota, Florida, and a succession of moves eventually brought me to what I consider my hometown of Bend, Oregon.
Alma mater: University of Oregon Clark Honors College, B.A. '16—Romance Languages, minor in music
Favorite thing to do in Eugene: I love spending time in the South Campus neighborhood: nothing is better than a picnic at Hendricks Park on a sunny day.
Tips for college success: Be the kid who sits in the front of the class and asks a lot of questions. Curiosity will get you a long way, from building relationships with your professors to helping you develop specific interests that could carry you into a career or research project.
Why you decided to work at the UO: As a recent graduate, I like being involved on campus and with student life. I still feel very connected to this university. Beyond that, I love the cultural variety in Eugene. It's a very real, very friendly city.
Favorite campus hangout: I love the Hearth café in Lawrence Hall. It's bright and cheery and has the best chocolate croissants on campus.
Most memorable class: Spanish 363, a Spanish literature survey required for the Romance Languages major, was taught by an incredible professor who later became my Honors College thesis advisor. This class introduced me to a whole new way of thinking about culture and society in terms of colonialism, capitalism, and the formation of the world as we know it.
Favorite restaurant: Kung Fu Bistro: the kung pao chicken is out of this world.
Quote you live by: When things get tough, I remind myself: "When life looks like easy street, there is danger at your door"-Jerry Garcia
If I didn't work at the UO: I would be a mental health counselor, or would be working towards a master's degree to help me pursue that career.
Special skills, talents, hobbies: I love all things language, from linguistics to wordplay. Aside from the languages I studied for my major—Spanish and French—I also dabbled in Hindi, Arabic, and Russian. I hope that one day I can make puns in Spanish that are as bad as my puns in English!
Closing thoughts: The UO campus is really fun in and of itself. When you come here, you'll start finding study spots and meeting places that become a unique part of your university experience. I guarantee you'll find a place that feels like home to you on campus.