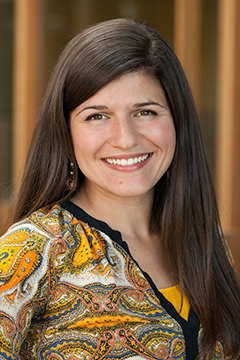 International Admissions Counselor
E-mail: anne.admissions@uoregon.edu
Phone: +1 541-346-2722
Recruiting territories: International Recruitment
Hometown: I was born in Salem, but I grew up in Dillon, MT.
Alma mater: University of Oxford, MSt '16, Global and Imperial history, and Ohio State University, BA '12, Middle Eastern history and international studies with a specialization in security and intelligence
Ducks in the family: I come from a long line of Ducks, but most recently my grandmother, aunt, and cousin.
Favorite thing to do in Eugene: I'm an avid hiker, so I love to get up really early and tackle one of the great trails not far from here (my favorites are Mount Pisgah and the Mackenzie River Trail) and then hit up one many great brunch spots in Eugene. We're also a very dog-friendly city, so I can bring my best friend along with me almost anywhere I want to go!
Tips for college success: No matter what you think you might do in the future, keep an open mind during your college years. I came in with a very clear vision of what I wanted to do after graduation, and found myself pulled in very different directions than I expected. The experiences I treasure the most are the ones that my 17-year-old self would have found the most surprising. And yes, it is possible to change your major! I applied to college as a physics major and graduated with a degree in history!
Why the UO? I often tell my students that they'll come for the opportunities afforded by attending a large, top-tier research institution but stay for the sense of community. They find both on campus and in Eugene. This is a true instance of "choose your own adventure." You'll be able to find whatever it is that you're looking for here, and meet some life-changing individuals along the way. Plus, our whole campus is an outdoor playground—we've got the ocean and the mountains in our back yard!
The best part of my job: My students. Many students these days are programmed to tell admissions counselors that they want to major in something that just "sounds impressive", never mind what they actually want to do with their lives. I love being able to get to the bottom of that, to find out what really fires their imaginations. 
Favorite Eugene restaurant: Ta Ra Rin – some of the best Thai food I've had outside of Bangkok!
Favorite UO "fun fact": My dad is a Eugene native and makes a cameo in the film Animal House!
Most memorable college class: My study abroad experience: Archaeology and Environmental History in Greece. I spent a summer on the island of Kythera working on an archaeological dig, and it was one of the most transformative experiences of my life.
Favorite hangout place on campus: The Marche Museum Café, I've spent many a rainy afternoon working on translations for my Russian class and enjoying their salted caramel chai. Plus, you get to enjoy some really fascinating art while you're studying.
Quote to live by: "I have no special talents. I am only passionately curious."—Albert Einstein
If I didn't work in admissions, I'd be: Pursuing my PhD in Central Asian History and eventually teaching and researching at the university level. I'm also an avid traveler, and I someday hope to visit Iran and see the ruins of Persepolis.