Charlie Just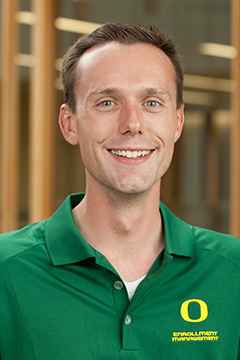 Admissions Counselor
E-mail: charlie.admissions@uoregon.edu
Phone: 541-346-1630
Recruiting territories: Oregon: Deschutes County, Washington: Western
Hometown: Tigard, Oregon
Alma mater: Northern Arizona University, BA '13, in International Affairs with a minor in Spanish
Favorite thing to do in Eugene: I love exploring the local microbreweries, meeting new people, biking around town, and discovering the nearby outdoors.
Favorite hang-out place on campus: The Jaqua Center for its proximity to Admissions and great coffee.
Most memorable college class: My semester abroad: I was able to complete my Spanish minor in Santiago, Chile, and study Community Development Through the Arts, which allowed me to see different parts of the city. My host family welcomed me and also helped me with my Spanish and had plenty of recommendations as I traveled the country.
Why you decided to work at the UO: The UO is bringing me back home to Oregon. I left for school to experience something different but always knew I wanted to return home. I am very excited to be working at a nationally recognized institution of higher education (both academically and athletically, of course).
Best part of your job: Helping students and their families connect to the university. I live for the moments when students can see themselves at home on this campus.
Favorite duck: The real ones I see in rivers and lakes as I explore the Eugene area.
Special skills, talents, and hobbies: I love the outdoors! Hiking, mountain biking, skiing and the coast are all near Eugene and I intend to do my fair share of exploring.
Favorite Eugene restaurant: Any McMenamin's pub. We have three in Eugene, and they're an Oregon staple.
Tips for college success: Get involved! Sign up for a few different clubs and organizations during your first week on campus, attend the first meetings of the school year, and then choose the one or two you really want to commit your time to. The friends and experiences you'll have in that club will stick with you for years to come.
If I didn't work at the UO: I'd move to Central America to help run a coffee plantation.
Closing thoughts: Have a question? Ask me! There's no such thing as a dumb question.