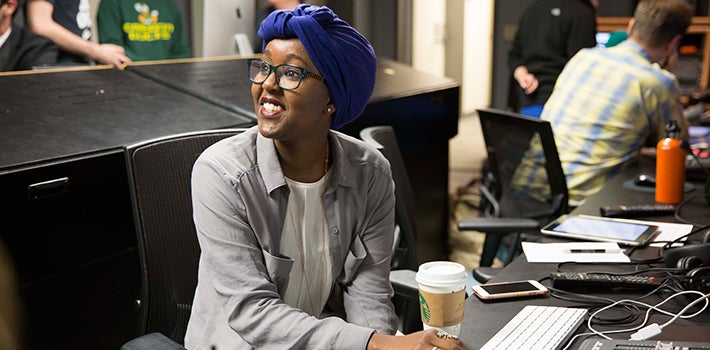 Undergraduate degree: BA
Lights, Camera, Success!
The UO's Cinema Studies Program offers a one-of-a-kind opportunity to explore every facet of the world of moving images. You will become a skilled producer of those images as well as a responsible consumer and thoughtful critic of them. While traditional film schools teach students how to make movies, UO students also learn about the consequences of films, their effects on society, and how a particular film fits into the history of cinema. The UO's interdisciplinary liberal arts program teaches the technical aspects of filmmaking as well as the broader philosophical ideas behind the art.
As a cinema studies student, you'll take classes across campus from a variety of departments and programs in the College of Arts and Sciences, the School of Journalism and Communication, and the College of Design. "There really isn't anything else like this program out there right now in the Pacific Northwest that incorporates top-notch critical and creative work in cinema studies," says Michael Aronson, the program's director. "It represents everything that real-world cinema encompasses from experimental video art to PBS documentaries to Hollywood films and TV shows like Portlandia."
Points of Interest
A state-of-the-art 24-station production lab and screening area is housed in the UO's Knight Library. The lab includes 27-inch iMacs, fully loaded with AVID, the industry standard for postproduction. The UO is the only AVID partner north of Los Angeles, and students graduate as certified AVID editors.
A vibrant local film community includes the student-run University Film Organization (UFO) and The Eugene Film Society, a grassroots film organization that encourages competition and collaboration among local filmmakers. 
Internship opportunities include working on the set of Portlandia, for Disney, or as camera people for the UO sporting events.
A study abroad program in Dublin, Ireland, gives students the opportunity to study Irish culture through film.
Sample Courses
Queer European Cinema explores themes of sexuality and identity that have emerged from Europe's rich variety of queer-themed films. Students will look at European films that address the notion of "border" both as a physical and legal reality and as a metaphor for thinking about gender identity, bodies, and desire.
Beginning Screenwriting guides students through the writing of a short film script while providing an overview of craft techniques that must be mastered in order to write narrative film.
Dangerous Dames: Women in Film Noir delves into the femme fatale fantasy in quintessential films such as Double Indemnity, The Big Sleep, Out of the Past, and The Lady from Shanghai. Students study the formal and narrative construction of these dangerous dames as well as their social implications.
Sound for TV and Film is a synthesis of analysis and production in respect to the uses of sound in film and TV. Students will begin with historical context and move into studying sound in TV and film, sound design and designers, sound and Foley artists, and an overview of sound studies and theory. Students will also learn about acoustics and sound physics and gain practical knowledge in recording techniques, hardware, and post-production mixing techniques.
Japanese Horror considers multiple aspects of the popular horror film genre in Japan that has inspired filmmakers around the world. From vengeful ghost stories to serial killer thrillers to body horror and techno-horror, students will learn more than they thought possible about Japanese horror.
See lists of cinema studies courses or watch video interviews with instructors about their courses
Action!
There are numerous ways to get the full cinematic experience at the UO. From studying film abroad to working on local internships in Portland to producing your own film, the Cinema Studies Program has everything you need to accomplish your goals.
The UO's Cinema Studies Lab is designed as a multi-use classroom and lab for digital filmmaking and other media-related digital production. You'll have access to creative software such as Final Cut Pro, Adobe Creative Suite, and AVID. Additional resources include a casual collaboration area and a 24-seat exhibition/theater space. The lab is used for production classes along with time-based art, documentary, and narrative production courses.
The Working Filmmaker Series are workshops and talks with working filmmakers for students to learn about what it takes to work as a professional in media industries. The working professionals are from many areas in the industry, including production design, music production, animation, and screenwriting. The Scholar Viewpoint Series brings important thinkers to campus to discuss cinema theory, history, and criticism.
The Cinema Studies Program is a major sponsor of the annual Cinema Pacific Festival, which includes the Adrenaline Film Project for students interested in a cinematic challenge. This is a 72-hour intensive workshop made up of twelve teams of university students and local filmmakers who write, shoot, and edit their work to make short three-to-five minute films while guided by professionals. If your team is selected to participate in Adrenaline, you can receive three academic credits for your work. Students are asked, in the two weeks after the Adrenaline screening, to write a paper reflecting on their project experience.
The Student Experience
Jordyn Roach is a double major in cinema studies and applied physics. Her film, This is a Girl, was shown at the 2014 Girls Impact the World Film Festival. She says her experience at the UO helped her create a film she is proud of. The cinema studies program, she adds, has passionate instructors who provide students with the ability to critically analyze film from theoretical and practical standpoints. "Learning how to become a critical rather than absent-minded consumer of cinema has been a challenge well worth the effort of conquering," she adds. Roach hopes to become a director after attending film school in Los Angeles.
When Samantha Stendal chose the UO, she was mostly interested in gaining hands-on production experience. While she's had those opportunities, she's also gained an understanding of the history and meaning behind contemporary works of cinema. Not just president of the University Film Organization, Stendal is a filmmaker in her own right. Her video, called A Needed Response, about the Steubenville Rape case, went viral and won both a Telly and Peabody award. She says, "I wanted to create a video that fostered a conversation around consent, and I am happy to see how far the conversation has spread.
Featured Faculty
Adjunct Instructor and Multimedia Supervisor Andre Sirois is not only an innovative and engaging instructor at the UO, he has also been a professional disc jockey and turntablist for KWVA since 2006. He teaches classes on music and sound production, recording, copyright law, and the creation of music videos. The course ends with students creating their own music video. "When they turn in their final project, it's kind of like being a father and seeing your kid grow up and be president. I get to be really proud of the work they're doing,"  "Being able to design my own classes is extremely rewarding," says Sirois, whose research focuses on hip-hop disc jockeys (DJs), the various technologies they use, and the culture that has formed around their profession. Currently, he is developing an organization and online museum dedicated to preserving the history of methods used by DJs.
Assistant Professor Sergio Rigoletto came to the UO from Italy after hearing about the exciting opportunities the university offered. "Cinema studies was young and flourishing when I came here, and I have been very excited to be a part of it," says Rigoletto, whose research focuses on masculinity in Italian cinema from the 1970s. In his classes, he encourages students to critically reflect on films and share their ideas. "Cinema isn't just something you learn in a classroom, it surrounds you in your everyday life and is something you can easily immerse yourself in."
Associate Professor and Director of Cinema Studies, Michael Aronson's research focuses on the cinema of the early 1900s, exhibition and moviegoing culture. His book, Nickelodeon City: Pittsburgh at the Movies, 1905–1929, explored movie culture in Pittsburgh during the silent era. "We see cinema studies as a good major for the 21st century," says Aronson. "Moving images are everywhere. For us, it's about harnessing the passion that students have and getting them to think about film critically and professionalize it."
Career Opportunities
Break into the film industry by working as a screenwriter, producer, or director. Play a part in the advertising and marketing aspects of the business. Work in entertainment law. Write movie reviews. Become a film historian, digital artist, actress, movie critic, or set designer. "We see cinema studies as a degree that blends a liberal arts education with the technical know-how of the media industry," says Sirois. "Given how much our world depends on moving images, our majors are set up to succeed in a wide range of careers."