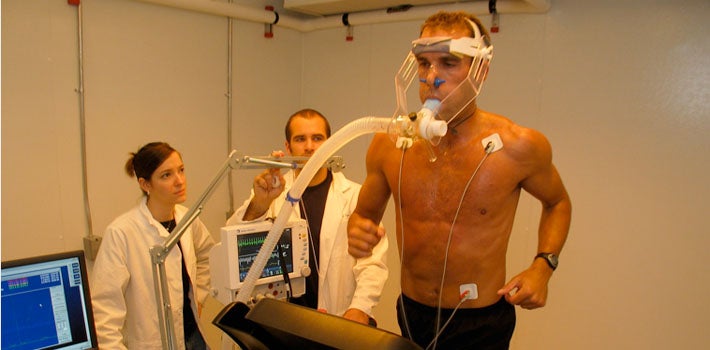 Undergraduate degrees: BA or BS
Human Physiology: Where Medicine, Science, and Exercise Intersect
What better place to study the physiology of human function and performance—and to begin work toward a career in medicine, sports medicine, physical and occupational therapy, or chiropractics—than "Track Town, USA"?
The UO's Department of Human Physiology boasts award-winning scientists who study a wide range of issues in medical science. You'll explore the intricate functional and structural mechanisms underlying human performance while surrounded by world-class athletes in a physically active community.
To members of the human physiology faculty, human performance encompasses a broad spectrum—from the lofty achievements of the nation's premier athletes to the physical challenges faced by older adults. You'll gain comprehensive, multidisciplinary knowledge in the physical, biological, and chemical sciences that will prepare you for entrance into many health care professions. Graduates have gone on to medical school, physical therapy programs, sports training, and numerous other specializations in human physiology.
In addition to completing the core science courses, you will be encouraged and challenged to question critically, think logically, and communicate clearly. Your education will take place not only in the classroom, but in practical environments such as research labs, physician practices, and hospital operating rooms. Human physiology students also examine the health sciences from a perspective that explores the functional and structural mechanisms underlying human movement across the life span, ranging from simple motor skills to the more complex environment of whole-body exercise.
At the UO, you'll have plenty of opportunity to learn by doing—whether it's hands-on fitness labs, an internship, or hitting the slopes or the track yourself. We invite you to join us in the Department of Human Physiology at the intersection of medicine, science, and exercise.
Points of Interest
The UO's human physiology faculty members welcome undergraduates to engage in laboratory research in renowned facilities such as the Bowerman Sports Science Clinic.
Gain hands-on training through internships with the UO's athletic training facilities or Sports Medicine and Wellness Clinic, or in the community through Sacred Heart Medical Center's Oregon Heart Center, McKenzie-Willamette Medical Center, and local fitness organizations.
Technology-based lab programs give you experience taking neuromuscular and cardiovascular measurements in a variety of environments. The UO's anatomy lab offers real human cadavers for educational study, while tissue and injury repair labs teach students how to test for injuries in the limbs and joints.
Work with faculty members who specialize in diverse areas including sports medicine, geriatrics, biomechanics, and exercise physiology.
Sample Courses
In Human Physiology I: Nerve, Muscle, Senses students study physiological principles as they operate in normal function, including neuronal resting and action potentials, muscle contraction, synaptic transmission, sensory transduction, special senses, neural reflexes, and central processing of information.
Motor Control is an introduction to the processes of control and coordination in the performance of motor skills. Neurophysiological, mechanical, and cognitive bases of motor skill acquisition are also included.
Environmental Physiology is an examination of physiological adaptations to acute and chronic exposure to extreme heat, cold, and high altitude.
Physiology of Exercise focuses on the physiology of exercise, physical conditioning, and training, and on the significance of these effects for health and performance.
Tissue, Injury, and Repair is an exploration of the physiology of injury and trauma. Emphasis is placed on inflammation and healing of connective tissue injury as well as therapeutic strategies and rationale.
See more courses offered by the Department of Human Physiology.
Interdisciplinary Opportunities
You will take classes in chemistry, physics, and biology that apply to your work in human physiology. If you plan to open your own professional practice, you may find that a minor in another area, such as business or psychology, will expand your opportunities after graduation. The Human Physiology department also offers courses in alternative and complimentary medicine, including yoga, meditation, and other forms of alternative care.
Hands-on Learning
If research is one of your goals, many professors welcome qualified undergraduates to work in their labs for upper division credit or paid compensation. In fitness labs, you'll analyze human movement and exercise. You can gain first-hand knowledge about physical therapy while interning at the UO's athletic training facilities or or take a rotation at the Sports Medicine and Wellness Clinic. Eugene's Sacred Heart Medical Center, the largest hospital between Portland and San Francisco, offers practicum opportunities at the Oregon Heart Institute.
Student Work
Exercise Physiology, Tahisha Buck's favorite class, required her to draw from the knowledge she gained in her introductory classes and then apply that knowledge to how "the body will function when it's being stressed with exercise, how it recovers, and how it adapts to repeated bouts of exercise." Buck says that the UO's human physiology labs allow students to learn with hands-on methods. Buck plans to continue studying at the UO, progressing to a PhD. "My end goal," she says, "is to become a scientist, researcher, and educator in the field of physiology."
Nate Ansbaugh applies his human physiology knowledge through an internship at the Oregon Urology Institute, where he has helped design and run a research project to track treatment outcomes of patients recovering from prostate cancer surgery and treatment. Ansbaugh says that the internship helped prepare him for medical school and guided his interest. "Oregon offers a lab with real cadavers," he says. "This is the best way to learn."
Selected Faculty Work
Li-Shan Chou, associate professor, teaches courses on the biomechanical analysis of human movement, orthopedic biomechanics, and rehabilitation engineering. In his research, Chou applies engineering and mechanical theories to enhance the understanding of mechanisms governing human locomotion and factors related to the increased incidence of falls in the elderly.
Instructor Grace Golden's clinical interests are focused on lower extremity rehabilitation, particularly the integration of athletic performance and development into post-surgical recovery. Her research has focused on the effects of dynamic warm-up on athletic performance, namely muscular strength, reaction time, and flexibility.
Associate Proferssor John Halliwill teaches human physiology and exercise physiology, and co-directs the Exercise and Environmental Physiology Labs. His research relates to how the human cardiovascular and respiratory systems adapt and respond to exercise and other stresses encountered during everyday life.
The research of department head and associate professor Christopher Minson is focused on two areas of cardiovascular physiology. With funding from the National Institutes of Health, Minson investigates the neural and vascular interactions in the skin during environmental heat stress. He is also studying how natural and synthetic forms of estrogen and progesterone impact cardiovascular health and blood pressure regulation in women, with funding provided by the American Heart Association. Minson trained at the Mayo Clinic.
Associate Professor Paul Van Donkelaar's research focuses on the neural control of human movement. He has approached this issue using behavioral, transcranial magnetic stimulation, and functional magnetic resonance imaging studies in healthy humans and in patients suffering from a number of different neurological syndromes including stroke, concussion, and cerebral palsy. 
Career Opportunities
"We want our undergraduates to think rigorously, to take what they learn in the lab and translate that into a medical career," says department head Christopher Minson. With your degree in human physiology, you might choose a career with a health club, or pursue employment in corporate fitness and risk management. Pharmaceutical or medical technology sales and hospital administration are other possibilities. Many human physiology graduates pursue careers in allied health professions. These include medicine, sports medicine, physical and occupational therapy, homeopathy, osteopathy, dentistry, optometry, podiatry, nursing, emergency medical technician, athletic training, and chiropractic. You also might choose to earn teaching certification or to go on to a graduate program.
Department of Human Physiology
Contact Information
(541) 346-4107
(541) 346-2841 fax