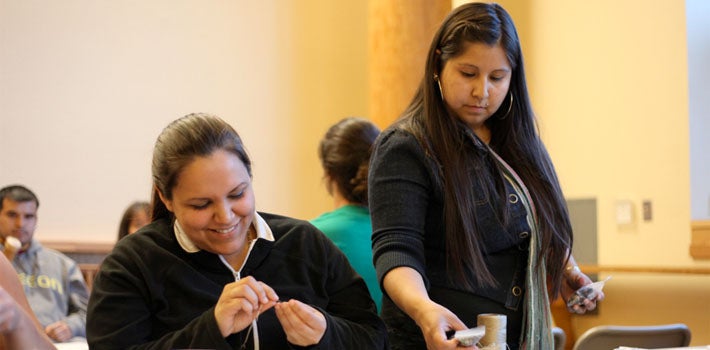 Undergraduate degrees: BA or BS
Undergraduate minor in Arts Management
Arts & Cultural Community Connections
The Arts and Administration Program (AAD) gives our students the power to positively affect not just their own future, but also the people, communities, and environments around them. In short, we empower them to make good. We believe that professional arts managers must be familiar with the social, economic, political, technical, and ethical contexts in which the arts flourish. We are dedicated to the principles of civic responsibility, environmental sustainability, international understanding, and cross-disciplinary education to affect positive social change.
The BA or BS in Arts Management is designed for students with an interest in participating in, leading, and managing arts organizations and activities across the arts sector.
Arts Managers are hired by...
Museums
Community centers
Arts councils
Film companies
Dance companies
Public television and radio
Symphony orchestras
Historical organizations
Musical organizations
Galleries
Arts advocacy organizations
Other related nonprofit organizations
Theater companies
Art centers
Event promoters
Festivals
Community theaters
...to perform duties such as artistic programming, fundraising and development, grant writing, marketing, arts learning, outreach, audience development, community engagement, box office and membership management, and event or performance production management.
What You'll Learn
The BA or BS in Arts Management offers students the opportunity to pursue in-depth studies in the arts and humanities, in the framework of a liberal arts education, and to develop the skills required to effectively work in the creative sector.
Learning outcomes for the BA/BS in Arts Management focus on the:
Nature of the creative process; how art and the artist function in society
Economic, political, and social environment for the arts
Local arenas in which art organizations exist
Importance and potential of technology
Impact of demographic diversity and multiculturalism
Ethical issues confronting arts managers
Upon completing an undergraduate degree in Arts Management, students should possess foundational knowledge for arts administration in the following areas:
Basic business skills: Accounting, financial management, organizational theory and practice
Financial and legal needs and realties of arts organizations
Production and presentation of art
Marketing strategies and outreach programming for the arts
Resource development for the arts
Points of Interest
Selected Courses
AAD 312 Arts Management introduces the field of professional mangement of arts organizations such as museums, galleries, community art centers, and performing arts organizations. As an introductory survey course, you will explore topics such as understanding the unique nature of arts organizations, economics of the arts, financial management, fundraising, and marketing. This course also provides insight into multiple career paths in arts management as well as advice for career development in the arts.
AAD 410 Planning Interpretive Exhibits brings objects, images, and ideas to life for visitors through storytelling, diverse presentation media, and opportunities for visitor engagement, learning, and participation. In this course, you'll learn basic principles of exhibit development, and gain practical experience with a proven approach to exhibit planning. Using examples from actual exhibits and working with real images and objects, you'll experiment with ways to make exhibit content meaningful and memorable for visitors.
AAD 420 Event Management examines management practices and trends of special events, festivals, celebrations, and fundraisers sponsored by organizations.
AAD 430 Youth Arts Curriculum and Methods provides educators with introductory knowledge and skills necessary for implementing substantive and appropriate arts intruction as an integral part of the core curriculum for young learners. Participants will learn to teach art as a unique means of thinking, communicating, understanding, and learning about ourselves, others, and the world. Course content will emphasize the visual arts, with some integration to other arts.
AAD 434 Artist Entrepreneur provides explorations into the evolution of entrepreneurship in relation to the arts and empowers emerging artists to harness their creative pursuits by assessing their creative entrepreneurial potential. This course is open to students from all creative disciplines based on the understanding that the arts entrepreneur in any field shares more similarities than differences when it comes to professional development.
AAD 471 Performing Arts Management examines development of cultural-policy institutions and processes worldwide; emphasis on understanding comtemporary American cultural-policy issues, governance and strategic planning, executive leadership, management, revenues, developing audiences, and cross-cultural interactions.
See more courses in Arts Management.
Immerse Yourself / Interdisciplinary Opportunities
Arts Management brings together the arts and creative sectors. The very nature of the degree makes it a perfect fit for students looking to develop an even deeper understanding of their own artistic interests. A degree in Arts Management would pair nicely as a double major with Anthropology; Art; Art History; Cinema Studies; Dance; Folklore; Humanities; Music; Music Performance; Planning; Public Policy, and Management; or Theater Arts. Many students (from any major) benefit from the skills gained from taking AAD courses.
The Student Experience
Students studying Arts Management, while diverse in their specific interests, have a few commonalities; they are passionate about the arts and cultural sector, they want to make a positive difference in their communities and others around them and they get things done. AAD has two student groups:
Emerging Leaders in the Arts Network (ELAN)
The Emerging Leaders in the Arts Network is a student-run professional development organization at the University of Oregon that cultivates leadership, dialogue, and engagement in the arts and culture community. ELAN is an affiliate of the Americans for the Arts' Emerging Leaders Network (one of the country's only student chapters), and a member organization of the Associated Students of the University of Oregon (ASUO). For information about ELAN, please visit their webpage.
Student Advisory Group (SAG)
The Student Advisory Group is dedicated to giving AAD students a voice in the policies and procedures affecting their education, working to foster a positive environment within the department by providing ongoing support to students and serving as a bridge between students and program faculty, staff, and administration. The SAG was established to provide students with an effective channel for offering input and feedback to faculty and staff on curricular and extracurricular matters within the program. SAG representatives serve as liaisons between the department and student body, representing the expectations, evaluations, suggestions, and satisfactions of their peers, and acting as advocates for them in ongoing interactions with faculty. For more information about the SAG, please visit their webpage.
Featured Faculty
Patricia Dewey Lambert's research lies at the intersection of the arts, humanities, and social sciences, and engages four interrelated thematic areas: arts administration education, international cultural policy, regional cultural planning and development, and arts in healthcare. Her current research projects focus on performing arts center management, arts in healthcare management, and public policy and governance matters associated with the Pacific Northwest Economic Region. These projects are all designed to intentionally and proactively link research, teaching, and community engagement. She has published articles in Higher Education, the International Journal of Arts Management, the International Journal of Cultural Policy, the Journal of Arts Management, Law and Society, and Studies in Art Education. Her recent book publications are Managing Arts Programs in Healthcare (Routledge, 2016) and Performing Arts Center Management (Routledge, in press).
Prof. Lambert holds a bachelor's degree in vocal performance from Indiana University, master's degrees in international business (Vienna, Austria) and arts management (Salzburg, Austria), and a Ph.D. in arts policy and administration from The Ohio State University. Recent professional development credentials include a Certificate in Fund Raising Management and certification as a professional Therapeutic Harp Practitioner for healthcare settings, as well as various courses and institutes in academic leadership. Her employment experience in Europe and the United States is comprised of positions as a professional classical singer, opera administrator, foundation programs administrator, English (ESL) instructor, marketing communications consultant, research fellow, and college teacher. Her numerous academic fellowships, grants, and awards include a Fulbright European Union Affairs Research Program Grant, grant support from the Canadian Embassy and Canadian Consulate in Seattle, and extensive internal research and program development funding secured through competitive proposals to various UO divisions. She provides professional service to organizations internationally, nationally, regionally, and locally. Details regarding her academic and professional accomplishments are available in the full curriculum vitae linked to this page.
At the University of Oregon, Professor Lambert regularly teaches graduate and undergraduate students in courses in cultural administration, performing arts management, cultural policy, arts in healthcare management, and research methods. She welcomes the opportunity to speak with current and prospective undergraduate and graduate students from across the university about academic opportunities and careers in arts management. 
The Arts and Administration Program has a strong combination of between 20 and 25 tenure related and non-tenure related faculty members. For a list of faculty and faculty specializations, visit http://aad.uoregon.edu/people/faculty.
Arts and Administration Program