Melissa Abel
Major: Biology with a concentration in human biology
Minor: Chemistry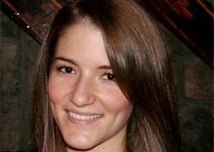 For Melissa Abel, who hopes to attend medical school as well as influence health and science policy, a strong background in medical science is essential. But so is developing research and leadership skills. As a biology major at the UO, she's able to do it all.
"One of the great things about the UO's biology department," says Abel. "Is that it has the benefits of a big research university while being small enough for students to form relationships with faculty members, get help when needed, and have access to research opportunities."
Through her classes, Abel is getting the academic background she'll need in medical school. She says Assistant Professor Hui Zong is great at translating complex concepts and making them accessible to students. "He also seems to really care about teaching and has taught me a lot about how to study efficiently and think critically," she says.
Outside the classroom, Abel is an undergraduate researcher in the Guillemin Laboratory. Working with Associate Professor Karen Guillemin, she studies signaling effects on intestinal cell specification in zebra fish. Abel's professors also recommended her for a summer with Research Experiences for Undergraduates at Johns Hopkins University.
When not in class or the lab, Abel spends time with her sorority, Pi Beta Phi. She served as president of the sorority in 2010 and as Panhellenic Council president in 2011. "Through these experiences I learned so much about leadership and working as part of a team," she says. "And it allowed me to get involved in lots of other campus activities and work with so many other amazing student leaders."
Through experiences in the classroom, laboratory, and with her sorority, Abel is preparing herself for the scientific side of medicine as well as to become a leader in the world of biology.
"I enjoy biology because it combines big concepts with analytical puzzles," she says. "It challenges me to think critically about the information I have learned in classes and ask questions about how the world works."
Text by Jennifer Snelling MA '01