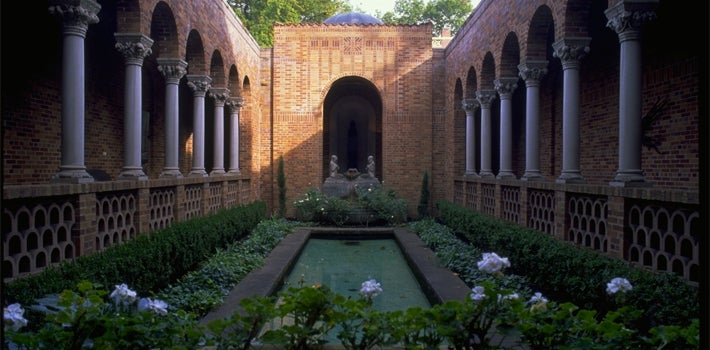 Undergraduate degree: BA
Undergraduate minor
Beyond the Frame
The Department of the History of Art and Architecture offers courses and degree programs that provide a broad perspective for understanding art, history, and culture, as well as a basis for critical judgment of individual works. Faculty members teach courses on art and architecture in the multiple areas or traditions, including:
American
Ancient (Greek and Roman)
Central Asian
East Asian (Chinese and Japanese)
Islamic
Medieval
Modern
Pacific Islands
Native American
Renaissance-Baroque
You'll be introduced to art traditions in courses focused on specific topics that allow small classes and discussion format. The department also offers special courses on critical methodology. You'll study art and cultural objects firsthand at the UO's two museums: the Jordan Schnitzer Museum of Art and the Museum of Cultural and Natural History.
Sample Courses
Art and Politics in the Ancient World looks at the use of art and architecture by leading figures and states to shape and express the political environment and ideologies of the ancient world from Egypt to Rome.
History of Photography examines photography from the early 19th-century to the present, including the aesthetics of the medium, its relationship to painting and the graphic arts, and its social role.
Japanese Buddhist Art focuses on the types and periods of Buddhist art and architecture in Japan, including painting, sculpture, gardens, monastic buildings and plans, ritual implements, and calligraphy, with an emphasis on form and function.
Italian Renaissance Art explores painting and sculpture from the Renaissance and analyzes them in terms of style, iconography, theory, and social context.
See more courses offered by the Department of the History of Art and Architecture.
Student Work
Art history student Adam Lesh received one of six 2009 Undergraduate Research Awards sponsored by the UO Libraries for his paper entitled "Mont Saint-Victoire: The Enduring Motif." Written for Professor Sherwin Simmons' class Survey of Modern Art, 1880-1950, Lesh's research explores Paul Cezanne's many paintings of the French mountain ridge Mont Sainte-Victoire located in southern France.
Art history major John Murphy was a recipient of the Wilma Wittemyer Memorial Scholastic Achievement Prize and a member of the Mortar Board National College Senior Honor Society and the Art History Association. His Clark Honors College thesis is on the Jesuits of South America. "I am interested in the art that was produced in the missions," Murphy explains, "particularly the sculpture that was made mostly by indigenous craftsmen, under the tutelage of the Jesuit priests." One of the best things about the art history department is the energy of its faculty, he says. "I found that to be pretty infectious. I invariably find myself getting really into what they are doing because they are so passionate about it."
Gretchen Stolte is interested in rock art and has taken advantage of the interdisciplinary nature of that study, exploring anthropology, geology, and mapping. Stolte traveled to Australia on the Amy and Ross Kari Travel Grant to intensively study aboriginal art and pictographs.
Selected Faculty Work
Associate Professor James Harper's research on the art of the Renaissance and Baroque periods focuses on several intersecting fields, like the intersection of art and politics. Harper examines how European artists imagine and represent the Ottoman Empire and its peoples.
Knight Professor Jeffrey Hurwit specializes in the history of art and culture in Archaic and Classical Greece. He approaches art as an expression of culture, and situates it within its historical, philosophical, and social contexts.
Andrew Schulz, associate professor, studies an overlooked period of Spanish history—1750 to 1820—when cultural contributions of Spain's Islamic past began to surface in the works of European artists, writers, and politicians.
Career Opportunities
The undergraduate program in art history can lead you to career opportunities in the business world, art museums, and galleries, as well as to graduate studies in art and art history.
Department of the History of Art and Architecture
School of Architecture and Allied Arts