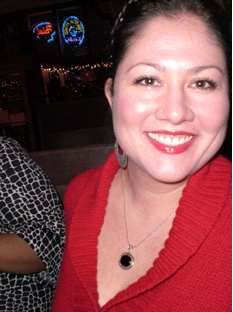 Shirley Cortez
Activities Coordinator, UO Veterans and Family Student Association
Military Background: Navy elevator technician, four years
Majors: English and theater arts
When Shirley Cortez discovered the UO's Veterans and Family Student Association, she knew she'd found a place where she belonged. A Navy veteran, Cortez soon found herself attending VFSA meetings and enjoying the company of a close-knit community of students who share the common bond of military service.
"The main purpose of VFSA is just supporting veterans, and helping veterans to reintegrate into society," she says. "I didn't serve in Iraq but lots of our members did, and some of them have PTSD. It helps to have somewhere to go where people understand, and really care about what they went through."
Noting that the VFSA also offers information about programs and services available to veterans, Cortez says that the camaraderie and emotional support are perhaps the best part of the organization. "We get together for barbecues, or just hang out and talk. It's great to know that we're there for each other."
But the group does more than just talk to one another: they have something to tell the world, as well. Cortez and some of her fellow VFSA members found their voices by performing in Telling, a theatre production that details true-life stories of military experience.